Sharks fall to Oilers in dramatic shootout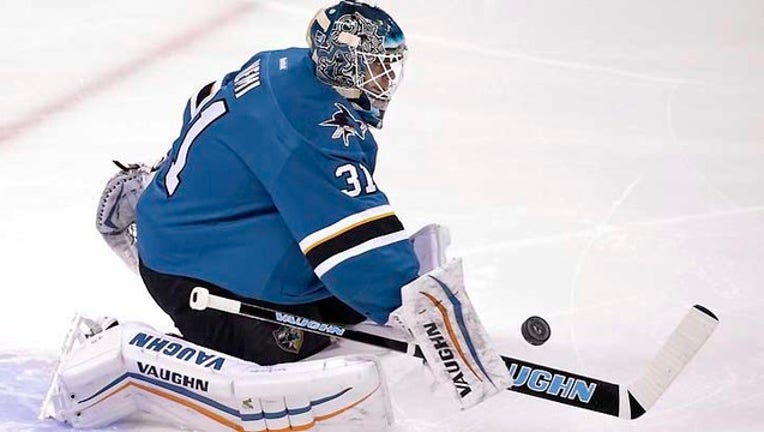 article
SAN JOSE, Calif. (AP) — Jordan Eberle scored twice in regulation and Rob Klinkhammer scored in the 13th round of the shootout to help the Edmonton Oilers snap a 15-game losing streak in California by beating the San Jose Sharks 5-4 on Monday night.
Justin Schultz tied the game with 2:37 remaining and Derek Roy also scored for the Oilers, who last won in the Golden State on April 1, 2012, when they beat Anaheim 2-1.
Edmonton had since lost five games each in San Jose, Los Angeles and Anaheim before breaking through against the Sharks.
Viktor Fasth made 33 saves, robbing Joe Pavelski of a potential hat trick in the closing seconds of regulation and stopping 12 of 13 shots in the shootout.
Scott Hannan and Matt Tennyson also scored for the Sharks, who had a three-game winning streak snapped to provide a dismal ending to what had been a strong seven-game homestand. Antti Niemi made 36 saves.
Brent Burns and Ryan Nugent-Hopkins traded goals in the fifth round of the shootout and that was all either team would get until Klinkhammer ended it by beating Niemi with a forehand.
After winning three straight against the past two Stanley Cup winners and the team with the best record in the NHL — Los Angeles, Chicago and Anaheim — the Sharks struggled once again against one of the league's bottom dwellers in what has become an all-too-familiar pattern this season.
The Sharks are 7-0-2 against the four teams currently in first place in their divisions, but have now lost eight of 13 games against the bottom six teams in the league.
That inconsistency has left the Sharks in a battle to make the playoffs for the 11th straight season. San Jose has a six-point lead over ninth-place Los Angeles, but the Kings have a game in hand.
The Sharks looked as though they would avoid another loss to a lesser team when they got goals from Hannan and Tennyson in the first 4 minutes of the third period to tie the game at 3.
Pavelski then gave San Jose the lead when he took a pass at the side of the net from Brent Burns and beat Fasth for his 27th goal of the season.
But the Oilers tied it late when Schultz beat Niemi on a deflected shot with 2:37 to play to force overtime.
After falling behind 1-0 on Pavelski's early power-play goal, the Oilers got two goals from Eberle and one from Roy to take a 3-1 lead into the third.