Shippers suspend vessel work at 29 West Coast ports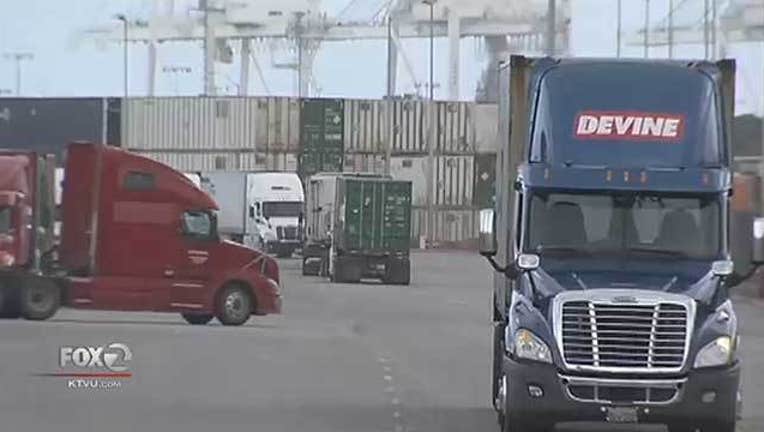 article
OAKLAND, Calif. (KTVU and wires) -- Shipping activity at 29 West Coast ports, including the Port of Oakland, is suspended today and three of the next four days because of an ongoing labor dispute with dockworkers, industry officials said.
The shutdown of loading and unloading ships is a reaction to what the Pacific Maritime Association, a group of shipping companies operating at West Coast ports, calls an ongoing labor slowdown by the International Longshore and Warehouse Union as contentious negotiations continue.
Rather than pay higher holiday and weekend pay for Thursday -- Abraham Lincoln's birthday -- Saturday, Sunday and Monday -- George Washington's birthday -- the PMA elected to instead suspend shipping services for those days.
The PMA also stopped vessel work last weekend.
ILWU spokesman Craig Merrilees said Thursday the allegations of a slowdown are exaggerated. He said productivity has been good at the Port of Oakland and safety concerns at some Southern California ports have led employers to complain the union has been uncooperative.
"It really is a ruse, it's a smokescreen," Merrilees said.
Meanwhile, he said, shutdowns called by the PMA will only bring the ports closer to gridlock.
But the PMA blames the union for an already large backlog of cargo at West Coast ports, claiming union members are essentially striking with pay.
"Last week, PMA made a comprehensive contract offer designed to bring these talks to conclusion," PMA spokesman Wade Gates said in a statement. "The ILWU responded with demands they knew we could not meet, and continued slowdowns will soon bring West Coast ports to gridlock."
The main sticking point in negotiations, now in their ninth month, appears to be how arbitrators are appointed and potentially removed.
The PMA claimed in a statement Wednesday that the union wants the right to fire arbitrators after an unfavorable decision, essentially preventing any decision against the union in arbitration.
But Merrilees said the union is only arguing that rather than being appointed for life, arbitrators should be appointed for the length of a union contract, typically six years.
At the end of a contract, both the union and the PMA would need to revisit whether arbitrators would remain for another contract term, Merrilees said.
One thing that is not in contention is pay.
"These workers are paid well, they make $26 to $41 per hour with good benefits," Merrilees said. "Money has not been a hangup for decades."
The latest PMA offer, detailed by the group Wednesday, includes a 14 percent pay increase over five years.