Six Flags theme parks wager over who will win Western Conference Championship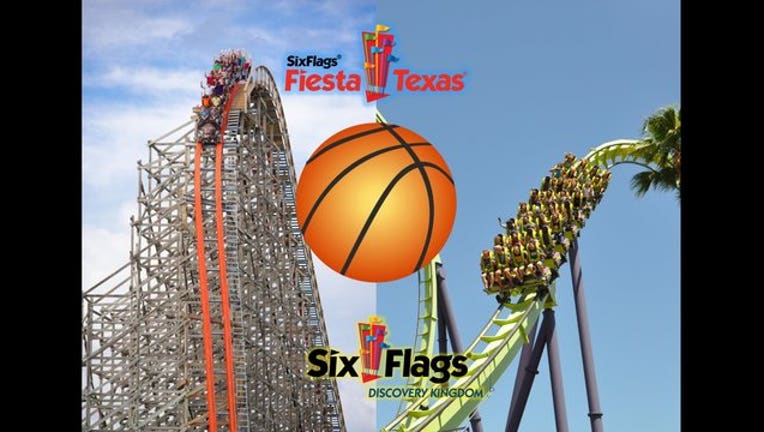 article
VALLEJO, Calif. (BCN) - The stakes for the Golden State Warriors against the San Antonio Spurs matchup just got higher: two Six Flags theme parks have made a wager on which team will win the NBA Western Conference Championship.
According to park officials, Six Flags Discovery Kingdom in Vallejo and Six Flags Fiesta Texas in San Antonio have agreed to rename a roller coaster and ride crews will wear opposing team gear for a weekend if their team loses the series.
Should the Spurs lose, Six Flags Fiesta Texas will have to rename their Iron Rattler to "Iron Warriors" and the park president, Jeffery Seibert, will wear a Stephen Curry jersey all weekend long.
Additionally, a basket featuring San Antonio's famous chips, salsa and guacamole will be sent to Discovery Kingdom.
But if the Warriors should lose to the Spurs, Discovery Kingdom will change the name of their ride Medusa to "The Spur" and their park president, Don McCoy, will have to don a Kawhi Leonard jersey for two days.
A food basket with San Francisco's own Boudin sourdough bread and Ghiradelli chocolates will also be sent to Fiesta Texas if the Warriors are defeated.
McCoy said in a statement, "This is just a friendly wager between sister parks that will have guests either cringing or cheering when they see the new name emblazoned on the ride marquee."
Seibert, a little competitive, said in a statement, "This wager will be fun and exciting for our guests, and we cannot wait to see our sister park, Six Flags Discovery Kingdom, pay up when we celebrate yet another San Antonio Spurs' playoff series victory."