Small firework sparks fire in Oakland Hills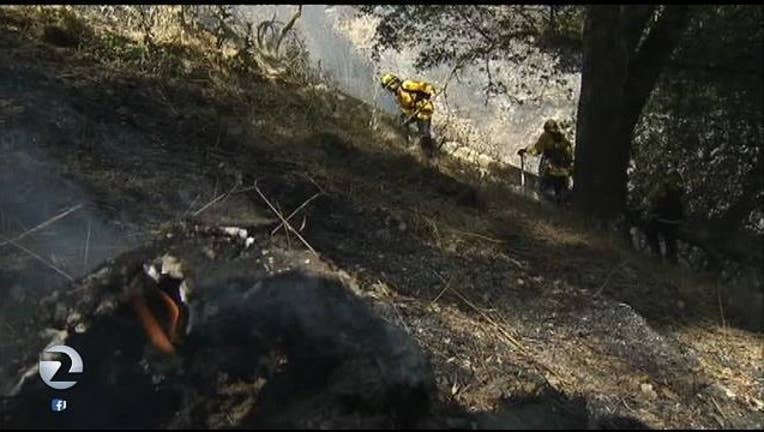 article
OAKLAND, Calif (KTVU) - As darkness fell over Oakland Saturday, the sky lit up with big explosions, illegal fireworks that are an annual 4th of July tradition.
But all it took was a Piccolo Pete to send fear through one Oakland neighborhood.
"There's no such thing as a safe firework in the city," investigator Javan Smith told KTVU, showing a small firework that started a brush fire Saturday afternoon.
"It's not anything large," Smith said, holding the device in his palm, "but it can do a lot of damage."
Even certified "safe and sane" fireworks, sold at fireworks stands, are banned in Oakland and Alameda County.
The fire that started on a trail in woodsy Joaquin Miller Park burned three acres of steep hillside with a half dozen homes at the top, in the Piedmont Pines subdivision.
"Oh it was frightening," resident Afshin Nouri told KTVU, " I was ready to get documents and get out of here."
It reminded Nouri of Independence Day two years ago, when fire raced through the same ravine, that one sparked by fireworks as well.
"Last time, the trees were on fire, the flames were shooting up a couple of hundred feet," recalled Nouri.
Saturday, Nouri and his sixteen year old son called 911, then used a garden hose to dampen the ground as smoke filled their street.
Early on, residents were hearing, fireworks were to blame.
"Because it's the fourth of July," observed Kian Nouri, "and they might have been just trying to have fun. But that's the wrong place to have fun."
Ground crews jumped on the fire fast, and air support, overhead with water and retardant, didn't need to make drops after all. But they were ready.
Any billow of smoke in the Oakland Hills rekindles memories of more than twenty years ago; the billion dollar firestorm that destroyed three thousand homes and killed 25 people.
That catastrophe started as a small grass fire, that later reignited.
This time, crews took no chances.
"Had we had wind and the hot temperatures we had a couple of days ago, 85 degrees in Oakland, it definitely could have been different, could have been worse," observed Oakland Fire Battalion Chief Jamie Bowron told KTVU.
As the fire started, one resident was running on a trail in the vicinity.
"A number of hikers came running at me, telling me to go back," recounted Justin Graham, "and they said a firework had just gone off so flames were burning in the brush."
In short order, arson investigator Smith found the tiny torch on a footbridge. 
"This was a slam dunk," declared Smith, "basically this thing whistles and sends out sparkles that look cool. But sparks are fire."
Smith is pursuing leads and asking for the public's help.
"Punishment is less important than education and safety," he noted.
It's unclear if the blaze was an accident or intentionally set in the dry brush.  
"Common sense would seem to dictate that someone would know this is a bad idea," acknowledged Smith, "but we're not going to make any assumptions. We'll wait until we talk to the individuals or individual involved."