Southern California rescuers on lookout for tangled whale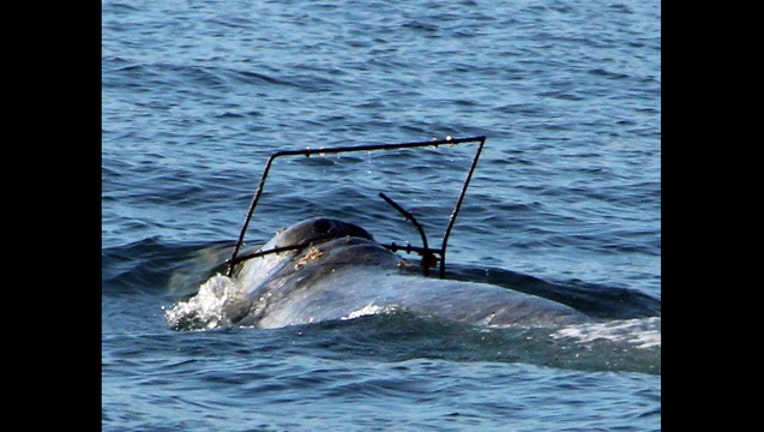 article
DANA POINT, Calif. (AP) - Boaters were asked Sunday to be on the lookout for a gray whale tangled in an unknown material heading north along Southern California's coast.
Capt. Frank Brennan was leading a whale-watching tour Saturday when he spotted the whale with what looks like some kind of metal frame around its head about 2 miles (3.2 km) off Dana Point.
"The whale was being evasive because there were so many boats around it," Brennan told the Orange County Register
He saw it a second time later in the day off Laguna Beach.
The National Marine Fisheries Service requested that boaters report any sightings of the tangled animal. Whales caught in materials such as fishing line or crabbing gear can starve or die from infected wounds.
The mammal was seen again around sunset Saturday near Newport Beach Harbor by Capt. Dave Anderson, who runs a separate whale-watching cruise and is involved in whale rescues.
Anderson told The Associated Press it's the fourth tangled whale he has seen in the past two months.
Figures released last month showed a record number of whales getting caught in crabbing gear off the U.S. West Coast. The Center for Biological Diversity cited 71 cases of whales caught in fishing lines off California, Oregon and Washington last year. It was the highest annual total for the region since record-keeping began in 1982.
The numbers of such entanglements have been climbing yearly.
California recently passed legislation meant to encourage crabbers to remove unused crabbing gear from the ocean.