Spieth has 64 for best opening round at Masters in 19 years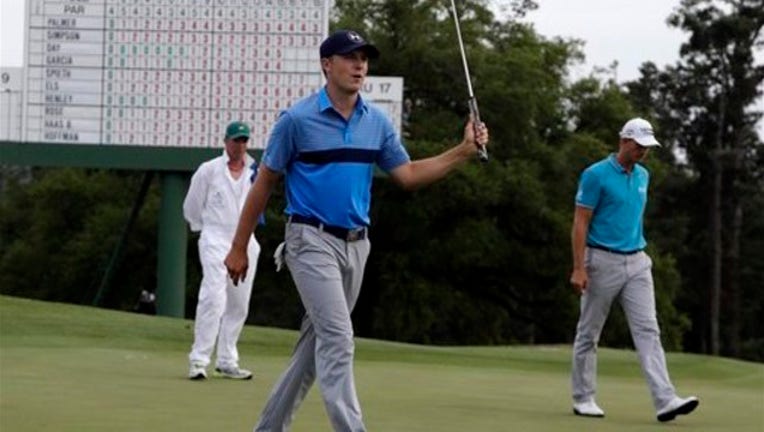 article
AUGUSTA, Ga. (AP) — Jordan Spieth pulled off the unthinkable Thursday. With the best opening round in 19 years, he managed to make the Masters about a lot more than the Grand Slam bid of Rory McIlroy and the curious return of Tiger Woods.
Spieth was must-see TV with his 8-under 64 on a steamy afternoon at Augusta National.
"It's one of the better rounds I've ever played," he said.
That wasn't the case for McIlroy, though his round wasn't awful. The world's No. 1 player saved par four times on the front nine and scratched out a 71. Woods had three birdies in his round of 73, and while it was the first time since 2007 that he shot over par in the first round of the Masters, it was looked upon as progress. Plus, his short game looked like it was close to being back to normal.
But the day belonged to Spieth, a 21-year-old Texan who at least got into the Masters record book as the youngest to lead after the first round.
An even more significant record was within his reach, and he didn't even know it.
Spieth ran off six birdies in a seven-hole stretch to reach 8 under through 14 holes, and the last of those birdies summed up a day when hardly anything went wrong. He hit a 7-iron out of the pines and began barking instructions to the golf ball as he often does. He didn't realize it smacked right into the pin and settled a few feet away until he heard the reaction from delirious fans around the green that suspected they were watching something special.
Almost.
Spieth hit hybrid over the green on the par-5 15th, chipped cautiously up the slope and three-putted from the fringe for a bogey. He closed with a 20-foot birdie putt for his 64, the best first-round score at Augusta since Greg Norman's 63 in 1996. It gave Spieth a three-shot lead over Ernie Els, Jason Day, Justin Rose and Charley Hoffman.
Spieth was thinking about 62. He had never shot 10-under par as a pro.
"I wasn't aware what the course record was here, let alone that it actually would have been the lowest round in major championship history. So that's a little frustrating," Spieth said before he paused with a wry smile. "But I'm certainly OK with the day."
It wasn't that big of a surprise.
Spieth shared the 54-hole lead last year at Augusta with Bubba Watson until a four-shot swing over the last two holes of the front nine as Watson pulled away. Plus, he might have been the hottest player coming into this Masters.
He won at Innisbrook in a three-man playoff. He was runner-up at the Texas Open. And he lost in a three-man playoff at the Houston Open just four days ago. The biggest challenge he faced was to keep his expectations from growing taller than a Georgia pine, and to make sure he was plenty rested.
Whatever the formula, it worked.
"What a player," Els said after a 67, his best score at the Masters since the day Phil Mickelson beat him with a birdie on the last hole in 2004. "You just cannot see this kid not win many, many majors. I think he is by far the most balanced kid I've seen. Jordan, he's got that little tenacity to him and he's really got a fighting spirit, and he's the nicest kid in the world. ... He's a special kid."
Els played the par 5s in 5 under and briefly had the lead until Spieth went on his birdie spree. Hoffman finished with an eagle and two birdies over his last four holes.
Day looked to be the most dangerous. Twice a contender at Augusta in the last four years, he made five straight birdies on the back nine until he lost momentum with a bogey from the bunker on the 17th. Still, three shots behind after one round wasn't a bad place to me.
McIlroy has more work.
Coming off successive major victories to close out last year, McIlroy needs only a green jacket to become the sixth player with the career Grand Slam. He has never started a Masters with this much historic significance in play, or this much attention. And he smashed this opening drive right down the middle.
The rest of his game was a bit off. He hooked a drive into the hazard on the par-5 second and had to scramble for par. He stubbed a chip short of the green on the 350-yard third hole and had to fight for another par. McIlroy picked up two birdies on the par 5s on the back nine to salvage his start.
"It could have been a round that got away from me," McIlroy said. "I just stayed patient, realizing that it's a 72-hole tournament. It was good to get into red numbers."
That wasn't that hard to achieve on a day of soft conditions that made even the tough pin positions a little more accessible. Thirty players in the 97-man field broke par.
Woods wasn't one of them.
He opened with a three-putt bogey from about 40 feet. He had one bad adventure on the ninth and escaped with bogey. But there was not a sign of struggle from his short game, except for a bunker shot on the par-3 fourth hole that went over the green.
Most telling was early on the back nine. Woods saved par from the bunker right of the green on No. 10. Facing one of the scariest shots on the course, he pitched beautifully to save par on the 11th. And after a tee shot into the water on No. 12, his wedge to 2 feet allowed him to make bogey.
"It's my strength again," Woods said.
But he was nine shots behind, and that was going to take a strong effort.