Stamkos leads Lightning past Sharks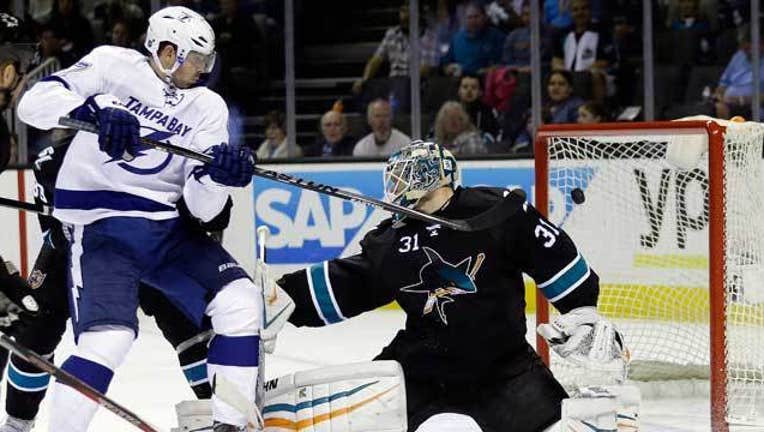 article
SAN JOSE, Calif. (AP) — Steven Stamkos scored his 30th goal of the season just before the end of the first period and the Tampa Bay Lightning beat the San Jose Sharks 5-2 on Sunday.
"We looked at our past couple losses and we've been down 2-0, 3-0, so we talked about getting off to a good start," Stamkos said. "It was not a pretty road win, but something we can be proud of."
Alex Killorn, Ondrej Palat, Cedric Paquette and Ryan Callahan also scored for the Lightning, who had lost their previous two and had given up at least three goals in each of the past five games.
"This a tough road trip for us," Palat said. "It's good for us to win the first game. It's way better to play with the lead."
Palat scored his first goal in 12 games and it didn't matter that he got a couple of lucky bounces.
"The puck bounced right to me. I shot it," Palat said. "It hit their D and kind of bounced into the net. I was happy. I needed to score like that."
Logan Couture and Brent Burns scored for the Sharks, who lost their fifth straight at home and four of five overall.
"This is frustrating. The mistakes we make are things we work on, we practice on and watch video on," Couture said. "These are things that should have been fixed in week 2 of the season. Our attention to details is not where it should be."
Ben Bishop stopped 33 of 35 shots as Tampa Bay won in San Jose for the first time in 12 years. Antti Niemi made 28 saves.
"This was a big game for Bish, to get his mojo back," Stamkos said. "He was terrific tonight. We gave them a couple of good looks, but Bish was there and we capitalized on our chances."
Stamkos scored with 16 seconds left in the first period on a slap shot from just inside the blue line.
Killorn scored at 7:12 of the second period, redirecting Callahan's shot. Stamkos picked up a rebound to set up the score.
"We haven't beat these guys in a few years so it was important to get off to a good start," Bishop said. "We were worried about the first 20 minutes and for the most part we did a good job."
Couture made it 2-1 with a nice shot into the upper left corner after taking a pass from Matt Nieto at 10:27 of the second.
Palat scored an unassisted goal 10 seconds into the third period.
Burns brought the Sharks within 3-2 with a backhand chip shot on a power play at 11:38 of the third period.
"There are mistakes on every goal," Burns said. "It's going to happen. It's a game of mistakes. We played pretty hard. You don't want to make mistakes and it's our job not to make them. It happens."
Paquette's goal gave the Lightning a two-goal lead and Callahan scored an empty-net goal.
NOTES: Paquette returned to the lineup after missing two games with an upper body injury. ... Sharks C Joe Thornton recorded his 891st assist, tied for 20th on the career list. ... The Sharks sent D Dylan DeMelo to AHL Worchester to make room for D Marc-Edouard Vlasic, who came off the injured reserve list after missing four games. ... Tampa Bay's previous win in San Jose was in March 2003.