Stanford back in Sweet 16 with 86-76 win over Oklahoma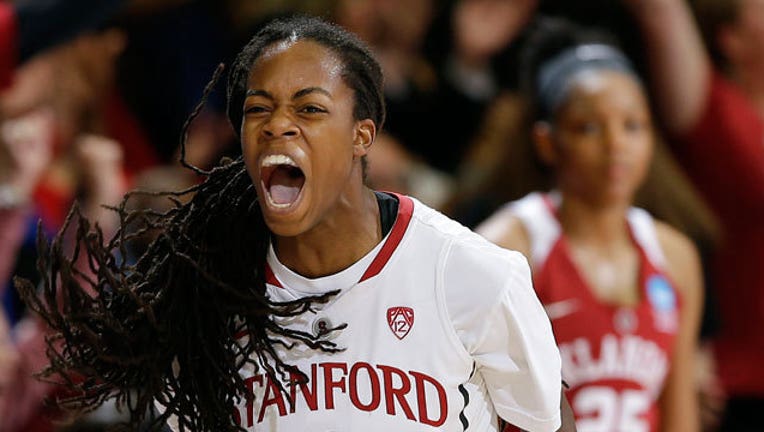 article
STANFORD, Calif. (AP) — Before taking the court at Maples Pavilion for the final time this season, coach Tara Van Derveer reminded her team about how well some of the program's most storied players performed in their home finales.
Amber Orrange and Bonnie Samuelson took that message to heart and made sure their careers wouldn't come to an end just yet.
Orrange scored 24 points and Samuelson scored all 19 of her points in the second half to lead the fourth-seeded Cardinal to an 86-76 victory over fifth-seeded Oklahoma in the second round of the NCAA Tournament.
"I told the whole team, this is a Stanford thing, Maples Magic," VanDerveer said. "I think she really lived up to it. Amber did, Bonnie did in the second half. We knew we had unfinished business."
It was a far cry from senior day last month, when Orange and Samuelson struggled in a loss to rival California. But there would be no repeat in the NCAA Tournament as Stanford (26-9) made it to the Sweet 16 for the eighth straight year.
Lili Thompson also scored 19 points and Briana Roberson provided a spark with 13 points and tough defense. The Cardinal will play top-seeded Notre Dame (33-2) in the third round on Friday in Oklahoma City.
They have Orrange to thank for that.
She kept Stanford in the game while many of her teammates struggled in the first half and combined with Samuelson and Thompson to take the game over in the final 20 minutes.
"She is unstoppable when she puts her mind to it," Samuelson said. "You definitely saw that tonight. She is just extremely consistent night after night. When she's being aggressive and taking those nice jumpers, she can't be stopped."
Kaylon Williams scored 24 points and Gioya Carter added 20 for the Sooners (21-12), who struggled to generate any consistent offense one game after scoring a season-high 111 points in a first-round win over Quinnipiac.
Oklahoma knew this game would be more difficult, especially on Stanford'shome court, and that proved correct once Thompson and Orrange took over.
Thompson hit a 3-pointer just before the buzzer at the end of the first half to start a 15-2 run that put the Cardinal up 44-38. Thompson, held scoreless for the first 17 minutes, had nine points in that spurt with Orrange adding two baskets.
Orrange and Samuelson hit consecutive 3-pointers that started an 11-0 run that put Stanford up 13 midway through the second half.
After having their 14-year streak of regular season Pac-12 titles snapped in what was expected to be a rebuilding year following the graduation of Chiney Ogwumike, the Cardinal have stepped their game up at tournament time. They won the Pac-12 tournament title earlier this month before getting the two wins to open the NCAA Tournament.
Oklahoma, the most inexperienced team in the tournament, played like it against the Cardinal after seemingly not missing any shots in the first round. The Sooners made just 4 of 25 shots in a span of more than 16 minutes starting late in the first half and missed their chance to win and go home to the regional in Oklahoma City.
"I think the best thing for us right now is to take this lesson and grow from it and come back with a vengeance," Williams said. "I know a lot of us are hurting right now and know this one will stick. We'll remember this."
The only player on her game for most of the night was Carter, who scored 16 first-half points to help the Sooners take a 36-29 lead. Thompson then beat the buzzer with a 3-pointer to make it 36-32 at the break.
TIP-INS
Oklahoma: Carter scored the first 10 points for the Sooners. ... Oklahoma has lost four straight tournament games to Stanford since beating the Cardinal in the second round in 2001 at home.
Stanford: The Cardinal improved to 9-5 when trailing at the half, including wins in the first two tournament games and the Pac-12 title game. ... Stanfordimproved to 32-4 at home in NCAA Tournament play.
THREE GUARDS
VanDerveer changed things a little more than 3 minutes into the game when she brought Roberson off the bench to add more quickness to the lineup. Roberson never left and teamed with Orrange and Thompson to slow down Oklahoma's backcourt.
"The three-guard lineup I thought was energizing for our team," VanDerveer said.
UP NEXT
Oklahoma: Season over.
Stanford: play Notre Dame in third round on Friday.