Stanford holds off Vanderbilt 78-75 to reach NIT semifinals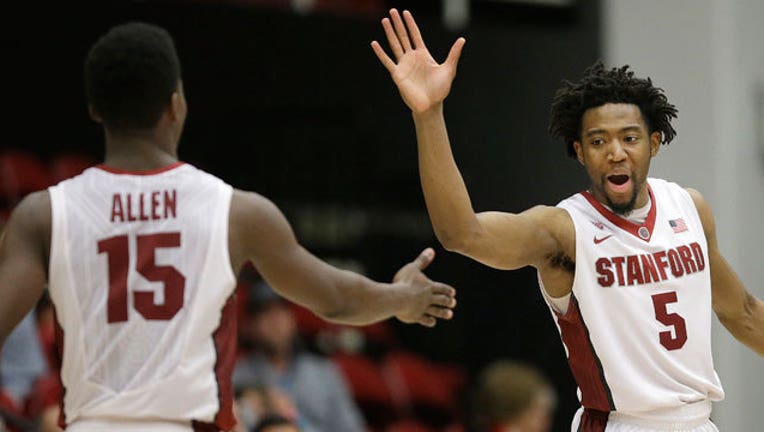 article
STANFORD, Calif. (AP) — Stanford's seniors are headed back to Madison Square Garden where they won it all in the NIT as freshmen four years ago. This time, they're far more experienced on basketball's March stage.
While disappointed not to be in the NCAA Tournament, the Cardinal consider themselves fortunate to still be playing for something.
Anthony Brown scored a season-high 26 points and dealt a hard hit that sent 7-footer Luke Kornet to the locker room with a concussion midway through the second half, and Stanford held off Vanderbilt 78-75 on Tuesday night for a berth in the NIT semifinals.
"It feels great. Obviously we were disappointed we didn't get to the NCAA Tournament," Brown said. "Like coach says, we have to keep playing. Whatever we're in, we've got to win it. That's our mindset. Seniors want to go out with a win in their last game."
Freshman Matthew Fisher-Davis hit a 3-pointer with 28.8 seconds remaining to pull Vanderbilt within 77-75 but missed a long 3 under pressure from well beyond the arc in the waning seconds.
Marcus Allen missed his first free throw with 22.3 seconds to go, giving the Commodores a chance to tie.
Fisher-Davis scored 18 points with a season-best six 3-pointers for Vandy (21-14) in a testy, physical game that featured flying elbows.
"We had two shots to get it tied. Unfortunately we didn't hit either one," coach Kevin Stallings said. "Our guys didn't stop playing hard all year long."
Stanford (22-13) will face the winner of Wednesday's quarterfinal game between Old Dominion and Murray State in the semifinals next Tuesday in New York.
The Cardinal won the NIT in 1991 and 2012.
Chasson Randle hit a 3 with 1:16 left on the way to 16 points two days after a career-high 35-point performance in a second-round win against Rhode Island. Randle moved into second place on Stanford's career scoring list, but will have a good chance to become the program's leader in his next game.
"Yeah it's a little bit of the same feeling, a little bit of nostalgia going on," Randle said of returning to Madison Square Garden. "I was a freshman then and this time I'm a senior."
Stefan Nastic dislocated his left pinkie finger in the first half and finished with 12 points and seven rebounds for Stanford. He will have an X-ray on Wednesday.
Nastic scored a key basket with 5:30 to play that ended a stretch of five missed field goals in a span of 6-plus minutes without a basket.
With 12:40 left, Fisher-Davis was whistled for a flagrant foul when he threw an arm up into Allen's face that sent him awkwardly backward. Then at the 11:01 mark, Brown was hit with his own flagrant after he clobbered Kornet with an elbow to the face and the dazed sophomore forward had to be helped to the locker room as he struggled to walk straight. He didn't return.
"It was a basketball play, no harm intended. I wish him the best," Brown said. "Any time you hit someone in the face with an elbow, it's pretty standard (flagrant call), intent or not."
It has been a whirlwind week for the Commodores, who showed few signs of being wiped out from two games in the Bay Area in a six-day span. They won at Saint Mary's College in Moraga on March 18, then topped South Dakota State at home two days later before making another long trek out West.
Vanderbilt, the Southeastern Conference's top 3-point shooting team this season, knocked down 12 of 25 3s and kept it close late from long range.
"Every time they shoot from behind the arc, you think it's going in," Stanfordcoach Johnny Dawkins said.
Damian Jones, averaging a team-high 18.7 points in his three previous games for Vanderbilt, was held to eight points as the teams met for the first time since Dec. 30, 1988, in Nashville.
___
TIP-INS
Vanderbilt: Kornet scored 12 points. ... Vanderbilt had five offensive rebounds in the opening 4:50. ... The Commodores traveled approximately 9,130 total miles in their two Northern California trips. ... The Commodores had 28 blocked shots over their three NIT games.
Stanford: Stanford freshman F Michael Humphrey sat out his sixth straight game with a left ankle injury. ... The Cardinal are 16-3 at home this season, the second time in seventh-year coach Johnny Dawkins' tenure they have won at least 15 games at Maples Pavilion.
RANDLE'S QUEST
Randle needed a little reminder of the company he's keeping as he moves closer to the school's scoring record — and conference accomplishments, too.
Randle (2,326) passed Lew Alcindor (2,325) to become the conference's fourth-leading all-time scorer.
"Wow, I didn't know that until after the game. I wish I was as tall as he was," Randle said. "It's a great honor to say I accomplished that."
UP NEXT
Vanderbilt: Season over.
Stanford: To NIT semifinals in New York.