Stanford women punch ticket for NCAA Tournament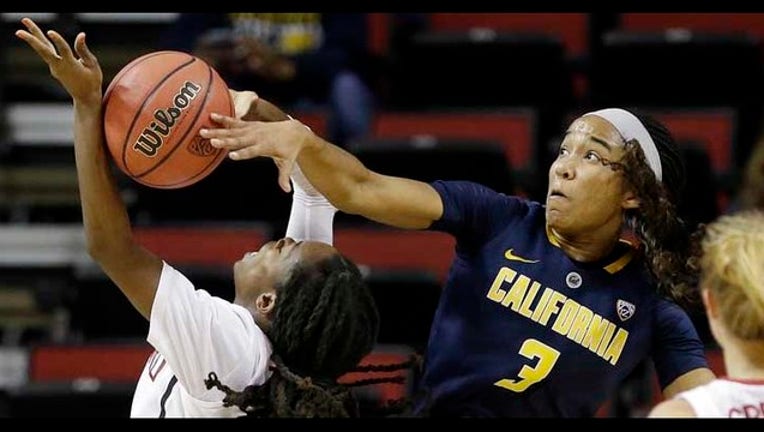 article
SEATTLE (AP) — With the net draped around her neck, Taylor Greenfield chuckled at being bestowed the nickname "Tournament Taylor" by her Stanford teammates.
The name fit perfectly after Greenfield led the Cardinal to their 11th Pac-12 Conference tournament title.
"I guess she's living up to that," Stanford's Kaylee Johnson said. "(Coach) Tara (VanDerveer) is always emphasizing how sometimes different people need to step up in different games and I think Taylor really showed that this weekend."
Greenfield scored a career-high 20 points on 8-for-11 shooting, Amber Orrange had 10 points in the second half and No. 19 Stanford knocked off rival California 61-60 on Sunday night.
The Cardinal (24-9) earned the Pac-12's automatic bid to the NCAA Tournament, building an eight-point lead late in the second half and holding off California's final rally. Stanford held on despite scoring just six points in the final 4:46. Orrange finished with 12 points and Lili Thompson added 13 for the Cardinal.
"This is as rewarding a championship that I've ever sat up here and felt because we definitely had to scrap for it and battle," VanDerveer said.
Coming into the conference tournament, Greenfield had gone 11 straight games played without scoring in double figures. She was scoreless six times during that stretch, and had just four points against UCLA in the tournament opener.
However, she had 17 points and the go-ahead basket in the semifinal win over No. 9 Arizona State and showed up against Stanford's biggest rival. She was selected the tournament's most outstanding player.
"Our theme this year has been to crash some parties and I think that's what we did here," Greenfield said.
Courtney Range led California (23-9) with 17 points. Pac-12 player of the year Reshanda Gray was held to six points and was in foul trouble for most of the game. Gray, who averaged nearly 18 points per game, scored the first points for California then didn't score again until 12:33 was left in the game.
Mercedes Jefflo added 16 points for California and Mikayla Cowling scored 14 points, but the Bears fell short in trying to win the Pac-12 tournament title for the first time. The Bears played more than 13 minutes of the first half without point guard Brittany Boyd after she was elbowed in the face and suffered a cut. She returned late in the first half, but finished with just seven points on 2-for-9 shooting.
"That was a really good game. I thought Stanford was a little bit better than us in some critical moments and made some plays," California coach Lindsay Gottlieb said. "But we took a punch literally and figuratively — our leader and point guard goes out with blood gushing — and everybody else rallies and that was something I'm proud of."
Stanford pushed its lead to 45-40 when Thompson out-hustled Gabby Green for a loose ball in backcourt and found Greenfield for a layup. Bonnie Samuelson added a 3-pointer and two free throws from Erica McCall kept the Cardinal lead at five with 6:24 remaining. Boyd hit two free throws but Greenfield and Orrange scored driving baskets on consecutive possessions, the second a three-point play to give Stanford a 55-47 lead with 4:46 left.
California closed to 57-53 after Jefflo scored off a turnover but Cowling missed a chance to cut the deficit to two, and Kaylee Johnson hit two free throws for Stanford. California closed to 61-57 on Boyd's driving basket with 11 seconds left and Orrange was tied up giving the ball back to the Bears with 8.4 seconds, but Jefflo's 3 at the buzzer only made the final score closer.
___
BACK ON TOP
Stanford's string of seven straight conference tourney titles was snapped last year after being upset in the semifinals by USC. The Cardinal are the third No. 3 seed in tourney history to win the title.
TIP INS
California: Both Jefflo and Range matched or exceeded their season scoring averages in the first half with Boyd out, each scoring nine points. Jefflo averaged 9.3 points for the season and Range 8.3.
Stanford: Greenfield's previous career-high was 18 points last season. She had not scored more than 12 in any game this season.
UP NEXT
California: The Bears will wait for their NCAA Tournament seeding but reaching the title game should have them in line to host first and second round games.
Stanford: The Cardinal have likely locked up hosting duty for the first and second round of the NCAAs.