State bar encourages volunteer lawyers to help with immigrants and other concerns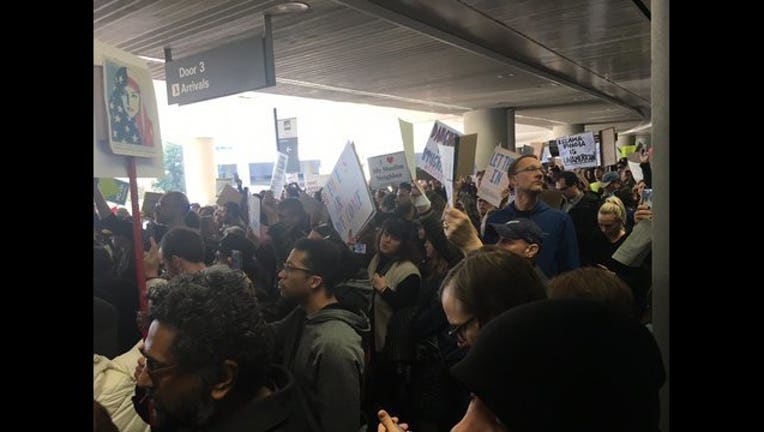 article
SAN FRANCISCO (BCN) - The State Bar of California is urging attorneys in the Golden State to volunteer to help people who need a lawyer but can't afford one for immigration issues and other problems.
   
The agency also has suggestions of resources for volunteer lawyers and for people looking for legal aid.
   
The State Bar, headquartered in San Francisco, is in charge of licensing California's nearly 190,000 active lawyers and investigating misconduct. The state also has nearly 57,000 inactive lawyers who have stopped practicing for reasons such as retirement.
   
Volunteer legal work is known as "pro bono" service, meaning "for the public good."
   
The bar's praise and encouragement for pro bono work came this week after numerous volunteer lawyers seeking to help refugees and immigrants converged on airports around the nation last weekend following the Jan. 27 announcement of President Trump's travel ban.
   
"We applaud the recent wave of attorneys throughout California looking to provide pro bono legal services around immigration and other legal concerns," bar President James Fox and Executive Director Elizabeth Parker said in an announcement Wednesday.
   
"The State Bar of California strongly supports access to legal services as a core part of our public protection mission."
   
"We support the promise of justice for all, including for low-income people who too often have no choice but to navigate the legal system alone," the two officials said.
   
Trump's executive order prohibits refugees and visitors from seven predominantly Muslim countries from entering the United States for 90 days, blocks refugees from all countries for 120 days and excludes Syrians indefinitely.
   
Airports that lawyers came to last weekend to help stranded travelers included those in San Francisco, Sacramento and Los Angeles.
   
As part of its support for pro bono service, the bar has a longstanding policy of waiving the usual fee for lawyers who transfer from inactive to active service for the purpose of volunteering, Fox and Parker noted.
   
That fee would be $412 for the year starting March 1, according to bar spokeswoman Laura Ernde.
   
Attorneys who are accepted to the Pro Bono Practice Program must work with a qualified legal services provider, certified lawyer referral service, or court-based self-help center, the bar said.
   
Fox and Parker said resources for volunteer lawyers include the Pro Bono Opportunities page at the State Bar website at http://www.calbar.ca.gov/AboutUs/CenteronAccesstoJustice/ProBonoOpportunities.aspx.
   
People who need a lawyer but can't afford one can find information about legal aid organizations in California at the bar's website at http://www.calbar.ca.gov/Public/LegalAidServices.aspx.
   
The State Bar is an administrative arm of the California Supreme Court. Fox, elected president by the bar's board of governors last year, was San Mateo County district attorney from 1982 to 2010.
   
At least nine lawsuits challenging aspects of the travel ban have been filed in federal courts around the nation in the past week. Several U.S. judges, including one in Los Angeles, have issued temporary restraining orders seeking to limit the implementation of the order until further legal proceedings are held.