State Dept. issues Cancun travel warning after taxi drivers attack Uber drivers, passengers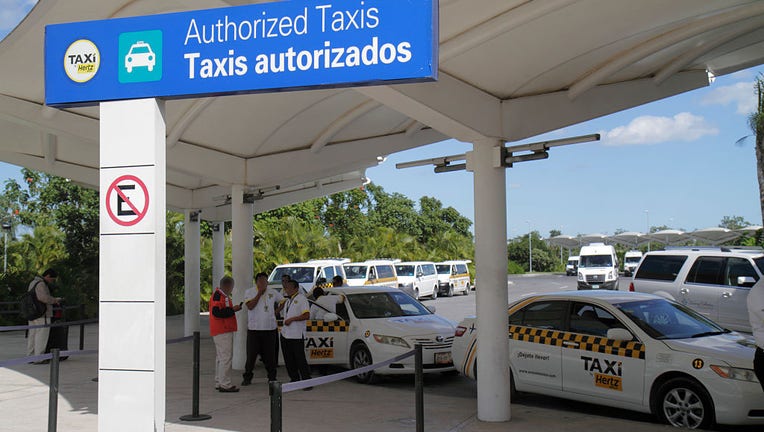 article
The U.S. State Department has issued a travel warning in tourist haven towns along Mexico's Caribbean coast amid clashes between disgruntled taxi drivers and Uber rideshare customers and drivers.
The warning comes after medallion taxi drivers in Mexico's Quintana Roo state, home to Cancun and other popular tourist areas on the Yucatan Peninsula, have been harassing and attacking drivers and passengers in Uber vehicles due to frustrations over the competition that the ride-share service provides.
Taxi drivers even blocked one of the main roads leading to the hotel district in the resort of Cancun Monday. That forced some tourists to walk or catch rides in police pickups to get their flights out, or check in.
The State Department advised travelers that "past disputes between these services and local taxi unions have occasionally turned violent, resulting in injuries to U.S. citizens in some instances."
AMERICANS TRAVELING BETWEEN MEXICO, US SEE VACATIONS TURN INTO NIGHTMARES AT THE BORDER
Social media sites have been full over the last two days of videos showing tourists being berated — and in one case, apparently manhandled — by groups of several uniformed taxi drivers.
The Cancun police department shared photos of travelers getting into the bed of police trucks, and said "given the blockades on the Kukulcan boulevard, our transit officers helped people get to the airport."
MEXICAN AUTHORITIES FIND BULLET-RIDDLED CAR OF MISSING OHIO MAN, BODIES BURIED NEARBY: REPORT
Cancun's mayor has called on the taxi drivers to show restraint.
"I am not going to allow a small group to damage the reputation of the resort and human safety," Mayor Ana Patricia Peralta said in a taped message.
The Taxi Union, representing about 12,000 members in Cancun, were incensed by a Jan. 11 court ruling that allows Uber to operate without a public transport license that is required of taxis, Mexico News Daily reported.
Uber did not immediately respond to a request for comment from Fox News Digital. 
The security warning comes after the State Department has issued travel advisories in dozens of Mexican states due to crime concerns including "Do Not Travel" advisories to the states of Zacatecas, Guerrero, Colima, and others.
Associated Press contributed to this report