Stocks dive as US proposes more China tariffs; Dow falls 572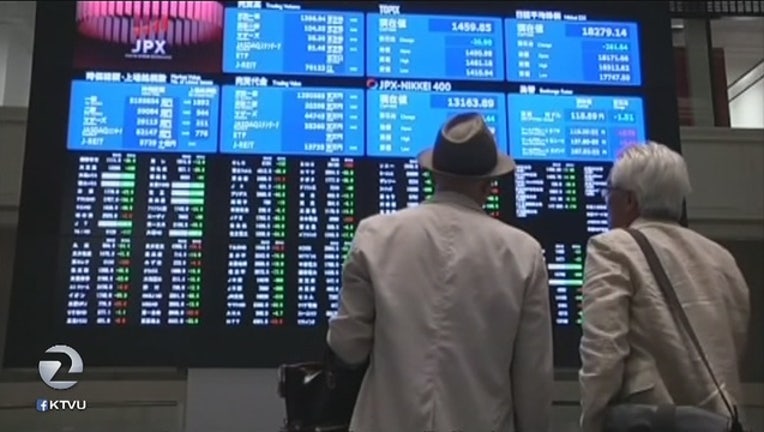 article
NEW YORK (AP) - Stocks ended the week the way they began it: tumbling as investors worry that tariffs and harsh words between the U.S. and China will touch off a trade war that derails the global economy. That came with the U.S. considering duties on an additional $100 billion in goods imported from China.
The stock market changed direction again and again this week as investors tried to get a sense of whether the trade dispute between the world's two largest economies will escalate. Technology companies, banks, industrial and health care stocks sank. The market didn't get any help from a March jobs report that was weaker than expected.
With administration officials sounding conciliatory one day and hostile the next and the president frequently quick to fire off another tweet, investors simply don't know what the U.S. wants to achieve in its talks with China, said Katie Nixon, chief investment officer for Northern Trust Wealth Management.
"The process itself seems to be quite chaotic," she said. "We're not quite sure what the long-term strategy is."
The Dow Jones industrial average dropped 572.46 points, or 2.3 percent, to 23,932.76. It fell as much as 767 points.
The S&P 500, which many index funds track, lost 58.37 points, or 2.2 percent, to 2,604.47. The Nasdaq composite slid 161.44 points, or 2.3 percent, to 6,915.11. The Russell 2000 index of smaller-company stocks dipped 29.63 points, or 1.9 percent, to 1,513.30.
President Donald Trump's administration spent the past few days reassuring investors that it's not rushing into a trade war, and China's government has done the same. But late Thursday, Trump ordered the U.S. Trade Representative to consider placing more tariffs on Chinese imports. China said it would "counterattack with great strength" if that happens.
Stocks dipped further after Trump criticized the World Trade Organization on Twitter Friday morning and the losses worsened in the afternoon.
At the start of the week, the U.S. announced plans to put tariffs on $50 billion in goods imported from China, and the Chinese government responded with measures of equal size. Stocks plunged on Monday, but they rallied over the next few days as officials from both countries said they were open to talks and that the tariffs might never go into effect.
The Dow average, which contains numerous multinational companies including industrial powerhouses Boeing and Caterpillar, swung dramatically this week, with almost 1,300 points separating its lowest point Monday afternoon from its high late Thursday. It fell 0.7 percent for the week.
On Friday Caterpillar, a construction equipment maker, slid $5.14, or 3.5 percent, to $142.99 and Boeing, an aerospace company, lost $10.28, or 3.1 percent, to $326.12. Among technology companies, Apple gave up $4.42, or 2.6 percent, to $168.378 and PayPal shed $3.09, or 4 percent, to $73.86.
Jason Pride, chief investment officer for Glenmede's private client business, said Trump's latest order caught investors off guard.
"I think it shows a willingness to go to the mat on this and fight it out," he said. Still, Pride said all of the proposed tariffs add up to a pretty small fraction of trade between the U.S. and China, and overall, they wouldn't affect the nation's economy that much if they do go into effect.
Nixon, of Northern Trust, said businesses also support the idea of making changes in America's trade relationship with China. Even though investors are optimistic about the state of the global economy and company profits continue to grow, Nixon said the administration is creating the thing investors hate the most: uncertainty.
The government reported that U.S. employers added 103,000 jobs in March, a weaker pace than the last few months. The Labor Department also said fewer jobs were added in January and February that it initially estimated. The unemployment rate remained low and the job market looks fundamentally healthy, but it's possible some employers are struggling to find workers.
Benchmark U.S. crude dropped $1.48, or 2.3 percent, to $62.06 a barrel in New York while Brent crude, used to price international oils, lost $1.22, or 1.8 percent, to $67.11 per barrel in London. Oil prices fell almost 5 percent this week as investors wondered if an increase in trade tensions will reduce demand for oil by slowing down the global economy.
Bond prices rose, sending yields lower. The yield on the 10-year Treasury fell to 2.77 percent from 2.83 percent. The lower yields mean banks can't make as much money from lending, and that sent bank stocks lower.
In other energy trading, wholesale gasoline dipped 3 cents to $1.95 a gallon. Heating oil lost 2 cents to $1.96 a gallon. Natural gas rose 3 cents to $2.70 per 1,000 cubic feet.
Gold rose $7.60 to $1,336.10 an ounce. Silver edged up 1 cent to $16.36 an ounce. Copper fell 2 cents to $3.06 a pound.
The dollar fell to 106.85 yen from 107.12 yen. The euro rose to $1.2285 from $1.2256.
Germany's DAX was down 0.5 percent while France's CAC-40 fell 0.3 percent lower. The FTSE 100 in Britain lost 0.2 percent.
Japan's benchmark Nikkei 225 index dipped 0.4 percent while South Korea's Kospi slipped 0.3 percent but Hong Kong's Hang Seng rose 1.1 percent after trading resumed following a holiday as investors caught up with the previous day's global gains.
____
AP Markets Writer Marley Jay can be reached at http://twitter.com/MarleyJayAP . His work can be found at https://apnews.com/search/marley%20jay