Stocks dive on trade war fears after China sanctions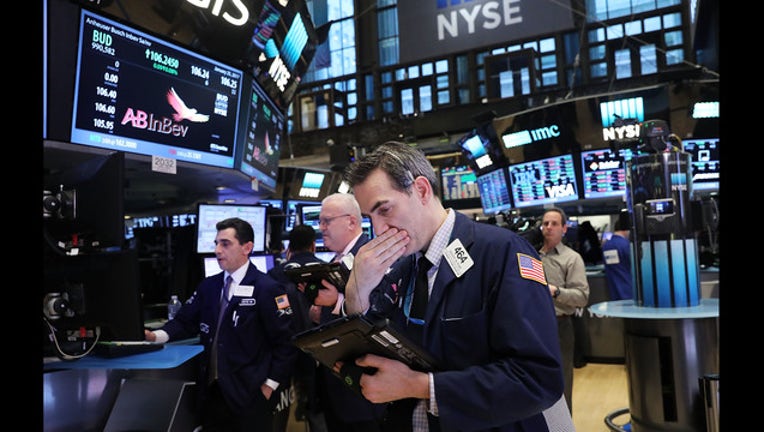 article
NEW YORK (AP) - Stocks plunged Thursday after the Trump administration slapped sanctions on goods and investment from China. The Dow Jones industrial average dropped more than 700 points as investors feared that trade tensions between the world's largest economies would escalate.
The planned sanctions include tariffs on $48 billion worth of Chinese imports as well as restrictions on Chinese investments. Trump said he's taking those steps in response to theft of American technology, and the Chinese government said it will defend itself. Investors are worried that trade tensions would hurt U.S. companies and harm the world economy. 
On Thursday they fled stocks and bought bonds, which sent bond prices higher and yields lower. With interest rates falling, banks took some of the worst losses. Technology and industrial companies, basic materials makers and health care companies also fell sharply.
Peter Donisanu, an investment strategy analyst for the Wells Fargo Investment Institute, said the risk of a damaging trade war is still low because the Trump administration is targeting specific goods that aren't central to China's economy. That could change if it puts tariffs on products like electronics or appliances imported from China.
"If the Trump administration really wanted to hurt China and start a trade war, then they would go after those larger sectors," he said. Still, Donisanu said that after last year's rally, investors are looking for new reasons to feel optimistic about stocks. With trade tensions in focus over the last month, they've had trouble finding any.
The S&P 500 index skidded 68.24 points, or 2.5 percent, to 2,643.69. The Dow Jones industrial average sank 724.42 points, or 2.9 percent, to 23,957.89. The Nasdaq composite gave up 178.61 points, or 2.4 percent, to 7,166.68. The Russell 2000 index of smaller-company stocks lost 35.43 points, or 2.2 percent, to 1,543.87.
Construction equipment maker Caterpillar fell $8.90, or 5.7 percent, to $146.90, for its worst loss since mid-2016. Aerospace company Boeing slid $17.49, or 5.2 percent, to $319.61. 
Investors also sold some of the market's biggest recent winners. Among technology companies, Microsoft fell $2.69, or 2.9 percent, to $89.79 and Alphabet, Google's parent company, fell $40.85, or 3.7 percent, to $1,053.15. Online retailer Amazon slid $36.94, or 2.3 percent, to $1,544.92.
Earlier this month the Trump administration ordered tariffs on imported steel and aluminum, and stocks dropped as investors worried about the possibility of tougher restrictions on international trade and smaller profits for corporations.
Their fears eased when the administration said some countries will be exempt from the tariffs. That continued Thursday, as U.S. Trade Representative Robert Lighthizer said the tariffs won't apply to the European Union, Canada, Mexico, Argentina, Brazil and Australia.
Donisanu, of Wells Fargo, said the Trump administration isn't hostile to trade necessarily, but wants to get other countries to revise the terms of America's trade deals.
"This is probably intended to get China to get more serious in discussions around violations of intellectual property rights and addressing those issues," he said. 
Bond prices climbed, sending yields lower. The yield on the 10-year Treasury note slipped to 2.82 percent from 2.88 percent. Falling bond yields are bad for banks because they force interest rates on loans lower. Bank of America lost $1.32, or 4.1 percent, to $30.55 and JPMorgan Chase gave up $4.79, or 4.2 percent, to $109.95.
Utility companies and real estate investment trusts moved higher. When bond yields decline, investors often bid up those stocks and others that pay big dividends. 
The decline in rates comes a day after the Federal Reserve raised interest rates and said the U.S. economy and the job market continued to improve over the last two months. The Fed expects to raise rates three times this year, although some investors think a fourth increase is possible. The Fed also said it might raise rates three more times next year instead of two.
Overseas markets closed mostly lower. Germany's DAX lost 1.7 percent and the CAC 40 in France shed 1.4 percent. Britain's FTSE 100 dropped 1.2 percent. Hong Kong's Hang Seng dropped 1.1 percent. The Nikkei 225 in Japan index gained 1 percent and the South Korean Kospi added 0.4 percent.
AbbVie plunged after it reported disappointing results from a study of its cancer therapy Rova-T. AbbVie canceled its plans to ask for faster approval of Rova-T as a treatment for small cell lung cancer, but other studies are continuing. AbbVie shed $14.35, or 12.8 percent, to $98.10. Other health care stocks also sank. 
Benchmark U.S. crude oil shed 87 cents, or 1.3 percent, to $64.30 a barrel in New York. Brent crude, used to price international oils, fell 56 cents, or 0.8 percent, to $68.91 a barrel in London.
Wholesale gasoline remained at $2.01 a gallon. Heating oil lost 1 cent to $1.99 a gallon. Natural gas lost 3 cents to $2.62 per 1,000 cubic feet.
Gold edged up $5.90 to $1,327.40 an ounce. Silver fell 3 cents to $16.39 an ounce. Copper lost 4 cents to $3.02 a pound.
The dollar fell to 105.61 yen from 106.10 yen. The euro rose to $1.2307 from $1.2332.