Stocks, pound fall again due to UK vote uncertainty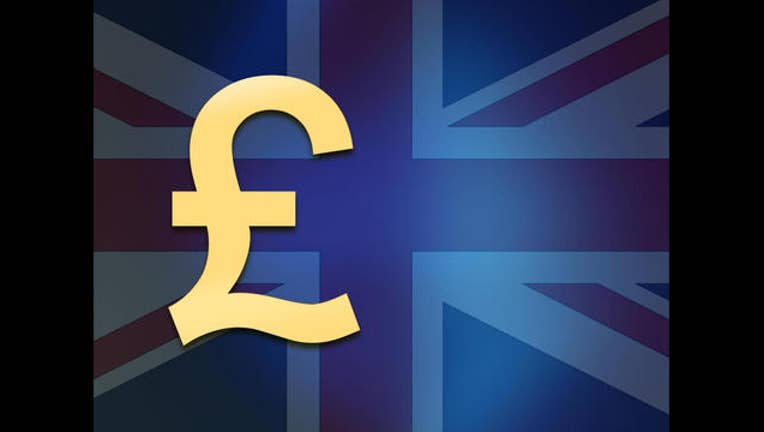 article
U.S. stocks indexes headed toward a sharply lower close in late-afternoon trading Monday, reflecting ongoing investor jitters over the fallout of Britain's vote to leave the European Union.
European stock markets extended their losses from Friday. The British pound, which last week plunged to its lowest level since 1985, continued to fall as traders expected the British economy would take a hit.
On Wall Street, materials companies were among the biggest decliners. Losses also piled up for financial and technology stocks. Shares in energy companies also fell as the price of U.S. crude oil declined.
"When you get major news like this that is unexpected, as the 'Brexit' vote was, it often takes about five trading days to kind of work through the system," said JJ Kinahan, chief strategist at TD Ameritrade.
The Dow Jones industrial average lost 298 points, or 1.7 percent, to 17,101 as of 3:28 p.m. Eastern Time. The Standard & Poor's 500 index slid 41 points, or 2.1 percent, to 1,995. The Nasdaq composite fell 125 points, or 2.7 percent, to 4,582.
The latest sell-off followed the market's plunge on Friday, when the Dow and S&P 500 clocked their biggest losses since August, and the Nasdaq notched its worst day since August 2011. Despite the losses, the market is still well above the lows it reached in early February, when the S&P 500 closed as low as 1,829.
Ratings agency Standard & Poor's adding to the market's jitters Monday by stripping the UK of its top credit grade over the EU exit vote.
Eight of the 10 sectors in the S&P 500 index were in the red, with materials companies down the most. Utilities stocks, traditionally seen as a more attractive investment at times of heightened market volatility, notched the biggest gain.
Western Digital fell the most among companies in the S&P 500 index. The maker of data storage products shed $5.94, or 12.4 percent, to $41.91. Rival Seagate Technology slid $2.31, or 10 percent, to $20.86.
Among materials sector stocks, glass packaging company Owens-Illinois shed $1.71, or 9.5 percent, to $16.25.
Banks and other financial companies slumped as investors speculated that the global economic uncertainty caused by Britain's decision to leave the EU will prompt the Federal Reserve to hold off on raising its benchmark interest rate. Banks benefit from higher interest rates, which translate into more revenue from loans and credit cards.
"A lot of the expectations about what these financial stocks would be worth have changed," Kinahan said. "This sort of takes Fed rate raises off the table for a while, maybe through the end of 2016."
Charles Schwab fell $1.92, or 7.3 percent, to $24.23, while JPMorgan Chase shed $2.11, or 3.5 percent, to $57.49. State Street gave up $4.08, or 7.4 percent, to $50.91.
Some stocks bucked the broader market's doldrums.
Beverage company Dr. Pepper Snapple Group led the gainers in the S&P 500, climbing $3.63, or 3.9 percent, to $95.81. And headphones company Skullcandy jumped 5.6 percent after it received a new buyout offer. The stock added 32 cents to $6.08.
European stock markets added to their steep losses from Friday, when concern over the vote outcome wiped out $2.1 trillion of stock value from Hong Kong to London to New York.
Britain's FTSE 100 fell 2.5 percent, while Germany's DAX and France's CAC 40 each gave up 3 percent.
Traders were bracing for more aftershocks as EU leaders press London to start the complex process of leaving the 28-nation trading bloc. Prime Minister David Cameron wants to wait several months.
"Markets will be nervous given that the EU and U.K. have some mismatch in terms of timing of exit procedures and negotiations," said Mizuho Bank analysts in a report.
"The EU's legitimacy may be tested by separatist parties," it said. "Spanish elections more immediately and then French elections in 2017 add to the complexity of political dynamics involved in negotiations. Brewing uncertainty suggests that the stage is set for potentially stormy global markets."
In the first direct reflection of business sentiment in Britain, a leading business group said Monday that 20 percent of its members plan to move some of their operations outside of the U.K. in light of the country's decision to leave the EU. The Institute of Directors said that a survey of its 1,000 members showed that three out of four believe that Britain's exit from the EU, or Brexit, will be bad for business.
Earlier, some Asian markets had bounced back somewhat following reports that Japanese Prime Minister Shintaro Abe instructed financial officials to take steps to stabilize financial and currency markets. Tokyo's Nikkei 225 rose 2.4 percent, making up some of the ground it lost on Friday, when it closed nearly 8 percent lower. Hong Kong's Hang Seng shed 0.2 percent. Seoul's Kospi rose 0.1 percent.
Bond prices rose. The yield on the 10-year Treasury note fell to 1.46 percent from 1.56 late Friday.
In currency markets, the British pound slid to $1.3188 from $1.3638 late Friday, despite the British Treasury's reassurances that the economy was strong enough to withstand the uncertainty. The euro weakened to $1.1015 from $1.1121, while the Japanese yen fell to 101.99 from 102.24.
In energy futures trading, benchmark U.S. crude slid $1.31, or 2.7 percent, to $46.33 a barrel in New York. Brent crude, used to price international oils, fell $1.25, or 2.6 percent, to $47.16 a barrel in London.
In other energy trading, wholesale gasoline dropped 5 cents to $1.48 a gallon. Heating oil fell 3 cents to $1.43 a gallon. Natural gas rose 5 cents to $2.72 per 1,000 cubic feet.
In metals trading, gold edged up $2.30 to $1,324.70 an ounce, silver slipped 5 cents to $17.79 an ounce and copper fell 1 cent to $2.13 a pound.
___
AP Business Writers Danica Kirka in London and Joe McDonald in Beijing contributed to this report.