Students, teachers protest archbishop's morality clauses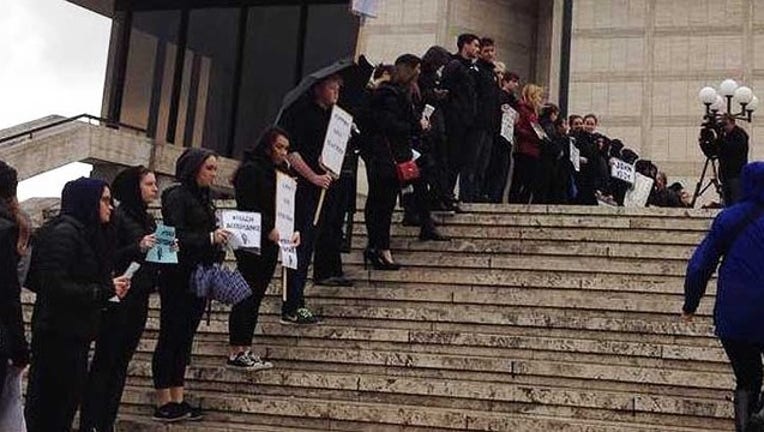 article
SAN FRANCISCO (KTVU and Wires) – A group of students and teachers braved a steady rain Friday to stage a protest over a new faculty handbook for San Francisco's Catholic high schools that includes clauses calling on teachers to lead their lives consistent with church teachings.
About 100 people dressed in black, including some students and parents, attended the vigil and rally on the steps of St. Mary's Cathedral.
They stood in silence on the route teachers took morning mass from St. Mary's to Sacred Heart Cathedral Preparatory school. There were also speeches, a song and a prayer.
Organizers say Archbishop Salvatore Cordileone's plan will "lead their schools away from the true spirit of their Catholic heritage: justice, compassion, inclusivity and welcome."
Cordileone said he plans to include language in the handbook calling on teachers to lead their lives consistent with church teachings on homosexuality, same-sex marriage, abortion, birth control and other behaviors he describes as evil.
He said he will include the clauses in next year's faculty handbook.
That has prompted criticism from within the school community and among gay rights activists.
"The new 'moral clauses' proposed ... by Archbishop Salvatore Cordileone stands in stark relief to the message of inclusion being promoted by Pope Francis," Lisbeth Melendez Rivera, a director of in the Human Rights Campaign Foundation's Religion and Faith Program.
Cordileone stressed that the handbook additions are meant to provide clarity for teachers and not to target any for dismissal.
"The intention is certainly not to pry into the private lives of the teachers. We certainly aren't going to do that. People are entitled to their private lives, but teachers also have to respect the mission of the school in the way they live their public lives," he said in a in a YouTube video posted as school principals presented the changes to teachers Tuesday.
The four schools — Archbishop Riordan and Sacred Heart Cathedral Prep in San Francisco, Marin Catholic in Kentfield, and Junipero Serra in San Mateo County — enroll about 3,600 students and are among a handful of Catholic schools nationwide with teachers represented by a labor union.
Archdiocesan Federation of Teachers President Lisa Dole, a social studies teacher at Marin Catholic, said union members were still digesting Cordileone's statement and hoped to have a better sense of what it bodes for teachers Friday, when the archbishop is scheduled to answer questions at a meeting of faculty and staff.
"We are pleased that the document acknowledges that the teachers in our high school are not all the same, like many Catholics around the world who struggle with their adherence to some of the teachings of the church," union leaders said in a statement. "However, there are still concerns with the proposed language and some key issues that the union and archbishop are hopeful that we will be able to work out."
Catholic bishops in Cincinnati, Cleveland, Honolulu and Oakland, California, aroused concern within their dioceses last year when they added clauses to teachers' employment contracts listing the behaviors they were expected to adhere to.
Because schools under his direct control are unionized, Cordileone does not have that ability. But he has proposed that the contract being negotiated identify all school employees as ministers of the church — a change gay rights groups said would put teachers who not adhere to the beliefs in the handbook at risk of firing.
The U.S. Supreme Court has exempted churches and religious schools from having to abide by federal anti-discrimination laws for employees in "ministerial roles."
Liberal San Franciscans have viewed Cordileone with suspicion even before he was installed as archbishop in October 2012. As the auxiliary bishop in San Diego, he helped spearhead the passage in 2008 of a state constitutional amendment that had outlawed same-sex marriage in California. Since 2011, he has chaired the U.S. Conference of Catholic Bishops subcommittee that works to oppose same-sex marriage nationwide.