'Suge' Knight comes to court for robbery case in wheelchair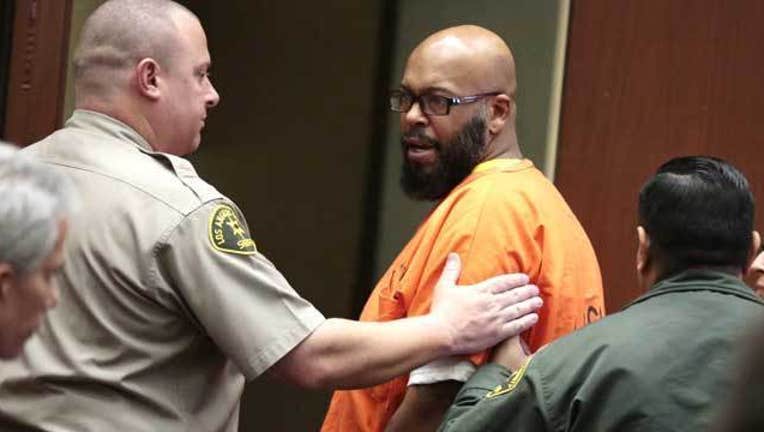 article
LOS ANGELES (AP) — A judge on Wednesday gave former rap music mogul Marion "Suge" Knight time to hire a new attorney in a robbery case filed after a celebrity photographer accused him and comedian Katt Williams of taking her camera last year.
In a separate case, Knight has been charged with murder in a deadly hit-and-run.
The Death Row Records co-founder appeared in a Los Angeles courtroom chained to a wheelchair. He complained to Judge Ronald Coen, saying he could walk. Knight fell at his previous court hearing and has been taken from courthouses four times for medical conditions since he was charged with murder in early February.
The judge promised Knight, 49, that he would not be brought into court in the wheelchair again as long as he was fit to walk.
Coen pressed Knight about whether he wanted a new attorney in the robbery case. His previous attorney, David Kenner, said in a filing he no longer wanted to represent Knight.
Knight said he wanted to fire Kenner and has until May 27 to hire a new attorney.
Knight is due back in court Monday for a preliminary hearing in a murder case filed after he allegedly struck two men with his truck outside a Compton burger stand, killing one of them.
Knight's attorney Matt Fletcher said he expects the hearing, during which prosecutors will present some of the evidence in the case, will go forward.
Fletcher said the wheelchair used at Wednesday's hearing seemed to be an effort to humiliate Knight, who told Coen he walked from his jail cell onto the bus and walked into the courthouse before being placed in the chair.
"As he said, it's like 'Silence of the Lambs,'" Fletcher said, referencing a scene in 1991 film in which Anthony Hopkins' character is heavily restrained and strapped to a hand truck.