Sunken ship responsible for oil found on birds recently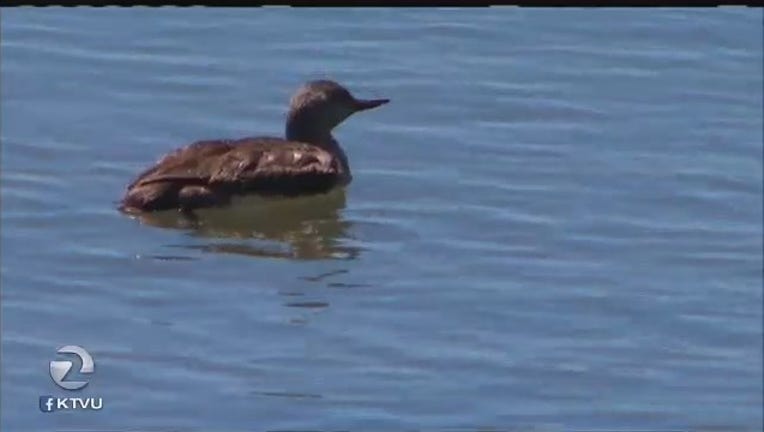 article
MONTEREY BAY, Calif. - Oil covering at least nine birds that have been rescued in the Monterey Bay area since late last year has been traced to a leaking cargo ship that sunk off the California coast more than 60 years ago, according to a local bird rescue center.
Since December, International Bird Rescue's wildlife center in Fairfield has cared for the oiled birds, which were rescued along beaches in Monterey and Santa Cruz counties.
Feather samples sent to a lab have confirmed that the oil came from the S.S. Jacob Luckenbach, a vessel that sank in 180 feet of water on July 14, 1953, about 17 miles west-southwest of San Francisco's Golden Gate
Bridge.
The cargo vessel was loaded with 457,000 gallons of bunker fuel and has been leaking sporadically over the years. The leaks are more common in the winter months because of strong currents, which bring the oil to the
ocean's surface, bird rescue officials said.
 
"International Bird Rescue exists to help mitigate human impacts on birds, and the Luckenbach unfortunately is a huge human mistake that continues to taint these beautiful seabirds," International Bird Rescue executive director J.D. Bergeron said in a statement.
Of the nine birds recently rescued, three have been released back into the wild, two remain in care and four have died.

Oil can harm a bird because it sticks to their feathers, causing them to mat and separate, which can impair the feathers' waterproofing effect. That in turn, can expose the animal's sensitive skin to extreme temperatures, causing the bird to either freeze or overheat.
Birds will instinctively try to get the oil off by using their mouth, resulting in the animal ingesting the oil and damaging its internal organs, according to bird rescue officials.
Over the years, International Bird Rescue estimates that it has treated thousands of birds covered in oil from mystery spills.   
In early 2002, oil from the S.S. Jacob Luckenbach was first linked to several mystery spills, including an incident in Point Reyes in 1997 and another in San Mateo in 2001.
By September 2002, the U.S. Coast Guard helped remove more than 100,000 gallons of fuel oil from the sunken vessel and sealed the remaining oil inside, including about 29,000 gallons that could not be reached and pumped out of the ship's tank.   
Last year, nearly 500 birds were affected by a mysterious substance described as goo. The goo-covered birds first started showing up in the waters around the East Bay and the Peninsula on Jan. 16, 2015.
In February 2015, state and federal labs determined that the mysterious substance included fats or oils that were not petroleum-based. Despite finding it on the birds, however, none of the goo was ever found in
the water or on the beaches.
"The oceans are becoming less and less hospitable for birds and other marine wildlife, even without these toxins. We step up to help because we believe every bird matters, and we're grateful for the incredible
community support we get," Bergeron said.
Bird rescue officials recommend that anyone who spots an oiled animal should not approach or touch it, but instead should call the Oil  Wildlife Care Network at (877) 823-6926.