Surfer injured in possible Pacifica shark bite
PACIFICA, Calif. - A surfer may have been bitten by a shark at Linda Mar - Pacifica State Beach on Friday. 
The incident happened shortly before 4 p.m. Pacifica Police Department said fire officials and medical responders were dispatched to the beach on the report that a surfer was bitten by a shark. 
Police said once officers arrived, they contacted a 52-year-old man suffering injury to his lower leg. He told police he had been surfing when something bit his leg causing injury. However, the victim could not see what bit his leg and could not confirm if it was a shark. He was transported to a local hospital for non-life-threatening injuries. 
A KTVU producer happened to be at the scene and said they saw the bite victim being driven away in an ambulance. The surfer appeared to be okay. 
A photo of the bite mark shows a deep gash with blood running down the man's lower left leg. 
The victim was surfing just north of the bathhouse when it happened. When officials left the scene, no warning signs were immediately posted.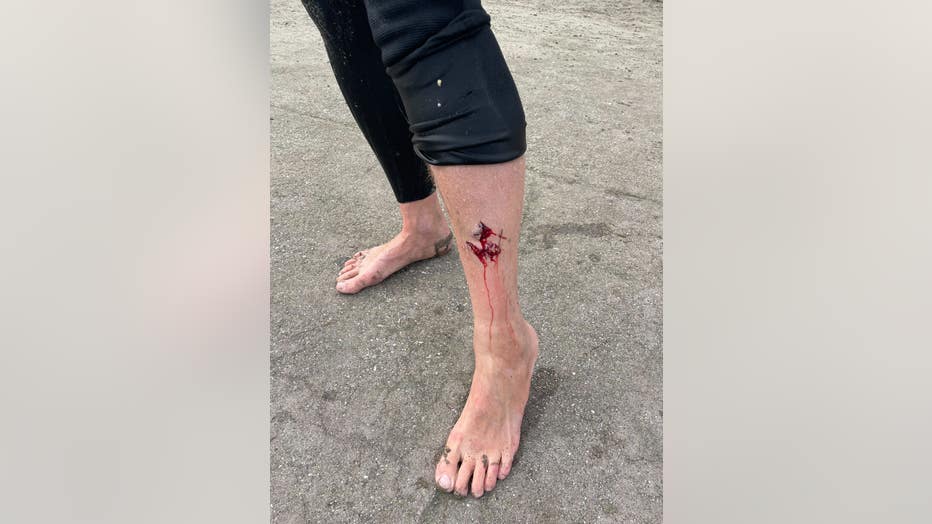 Man shows where he was apparently bitten by a shark on Friday, Oct. 13 at Linda Mar Beach Photo credit: Evan Barbarick 
Another surfer said they witnessed what was happening and took that photograph.
"So my friend and I were surfing next to the guy that got attacked. And he basically mentioned something along the lines of, 'Hey, I got bit and was sort of struggling in the water.' And my friend asked him if there was a bad bite and he said yes," witness Evan Barbarick said. "And then we were all able to get on our boards and get out of there and yeah, when we got back, he had a pretty good-looking bite around the side of his leg." 
Barbarick said he was about seven feet from the surfer who was bitten. He heard the victim yell that he was bitten. 
The waves were said to be decent, but not many surfers took advantage of the conditions. 
KTVU's Freddy Brewster contributed to this story.