Suspect arrested in Phoenix-area shooting that killed 1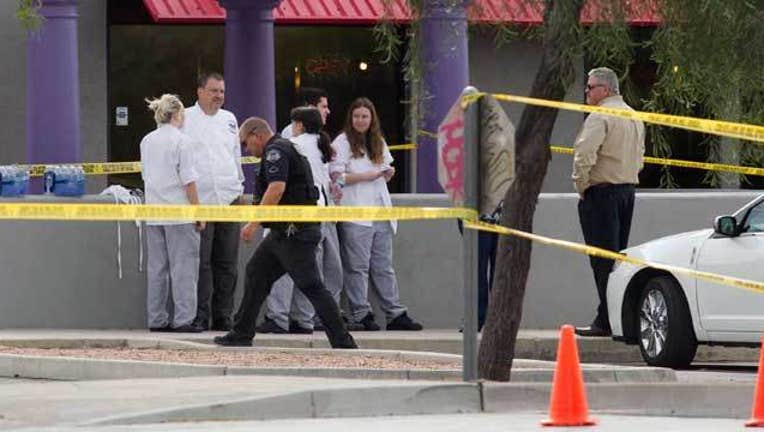 article
MESA, Ariz. (AP) — A gunman killed one person and wounded five others Wednesday in a rampage that included a motel shooting, a carjacking and a home invasion and ended with his arrest at a nearby apartment in suburban Phoenix.
The suspect was taken into custody after officers spotted him on an apartment balcony and deployed a stun gun. Numerous officers later led a handcuffed man to a truck parked outside an apartment complex. Police did not immediately release his identity.
The incident started with an argument inside a room at a motel and spilled outside, leaving one man dead and two women wounded, Mesa Detective Esteban Flores said.
The suspect then shot a man working at a nearby restaurant. That victim, an adult student at nearby East Valley Institute of Technology, was able to run across the street to emergency responders already at the motel, Flores said. The school said in a statement that he was one of seven students and an instructor working at Bistro 13 restaurant. The student has been treated and released from a hospital.
The suspect got away by carjacking the instructor's car.
The suspect then allegedly went to an apartment complex about 2 miles away, where he gained entry into an apartment and shot a man. That victim will survive, police said. According to Flores, a police officer spotted a man in a neighboring apartment building with multiple gunshot wounds. He is currently listed in critical condition.
The shootings prompted an intense hunt for the suspect as Mesa police searched the trunks of cars, interviewed witnesses and brought in SWAT and canine units from other agencies. Flores warned people in the neighborhood to remain indoors.
Several locations in the area were placed on lockdown amid a heavy law enforcement presence. The Arizona Department of Public Safety sent its SWAT team to Mesa to assist with the effort, DPS spokesman Bart Graves said. Scottsdale police also sent SWAT and canine units.
East Valley Institute of Technology officials said the school went into lockdown as soon as gunshots were heard. The lockdown lasted more than an hour, according to students. Afternoon classes were held but optional. A nearby Mesa Community College campus issued an emergency alert, saying it was on lockdown and anyone there should proceed to the safest location. The campus remained closed Wednesday.
Vinny Carbone owns an auto body shop near the motel and restaurant. He was getting ready to open up when he heard a man yell "help, help" from Bistro 13 across the street. He turned and saw a woman outside the motel with what looked like a bullet hole in her side.
"She was in a chair but she was holding onto another chair, shaking, trying to keep her balance," Carbone said "Another guy, he had blood on the back of his shirt."
Alex Martin of Mesa saw the chaos that ensued after the shootings.
"I heard several cop cars and ambulances and fire trucks roll up past me. I get here and there's easily 20, 30 police units just swarming the roads," Martin said.
Arizona Gov. Doug Ducey promised Mesa officials any resources the state could offer.
"Right now, our hearts and prayers are with the people of Mesa, the individuals affected by this tragedy, and all law enforcement and first responders working to assist the victims," he said.