Suspect in Charlottesville car ramming faces new 1st-degree murder charge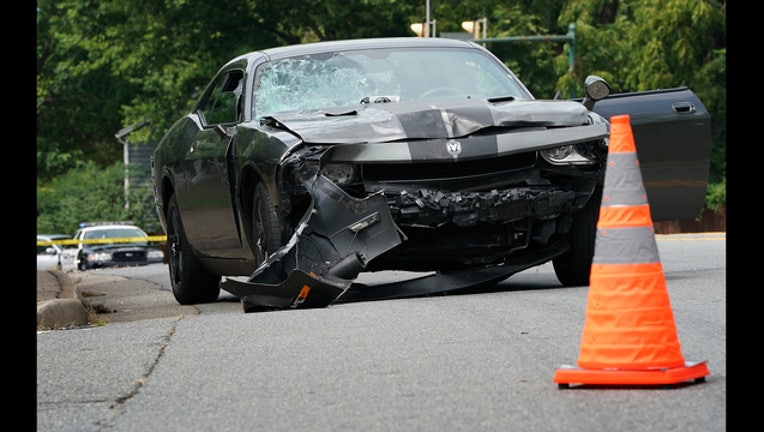 article
By SARAH RANKIN
Associated Press
   
CHARLOTTESVILLE, Va. (AP) -- The Ohio man accused of driving a car into a crowd of people protesting a white nationalist rally this summer in Charlottesville had his most serious charge upgraded to first-degree murder Thursday. 
 
   James Alex Fields appeared in court for a preliminary hearing, where prosecutors said they had filed a motion earlier in the day seeking to amend the second-degree murder charge he had previously faced. 
 
   Charlottesville General District Judge Robert Downer Jr. certified the first-degree murder charge and all others against Fields. The case will now be presented to a grand jury for an indictment.
 
   Authorities say the 20-year-old, described by a former teacher as having a keen interest in Nazi Germany and Adolf Hitler, drove his speeding car into a group of counterprotesters on Aug. 12, killing 32-year-old Heather Heyer and injuring dozens more. 
 
   The attack came after a white nationalist rally earlier in the day descended into chaos as fights broke out with counterdemonstrators, and authorities forced the crowd to disband. Charlottesville became a target for white nationalists after the city voted to remove a statue of Confederate Gen. Robert E. Lee. 
 
   Fields, of Maumee, Ohio, sat quietly in a striped jumpsuit with his hands cuffed during Thursday's hearing. 
 
   Fields' attorney Denise Lunsford did not present evidence or make any arguments at the hearing, although she did cross-examine a Charlottesville police detective whom prosecutors called as a witness.
 
   A former teacher, Derek Weimer, has said Fields was fascinated in high school with Nazism, idolized Adolf Hitler, and had been singled out by officials at his Union, Kentucky, school for "deeply held, radical" convictions on race. 
 
   Fields was photographed hours before the attack with a shield bearing the emblem of Vanguard America, one of the hate groups that took part in the rally, although the group denied any association with him. 
 
   During her cross-examination of Charlottesville Police Det. Steven Young, Lunsford asked if searches of Fields' computer, phone or social media revealed any evidence that he was part of Vanguard America or any other white nationalist group. Young said, "No."
 
   The judge also presided over preliminary hearings earlier Thursday for three other defendants charged in cases related to the August rally: Richard Preston, who is accused of firing a gun, and Jacob Goodwin and Alex Ramos, who are accused in an attack on a man in a downtown parking garage. 
 
   The judge certified the charges against all three men. Their cases will also proceed now to a grand jury.