Swollen rivers cause Texas cities to worry about flooding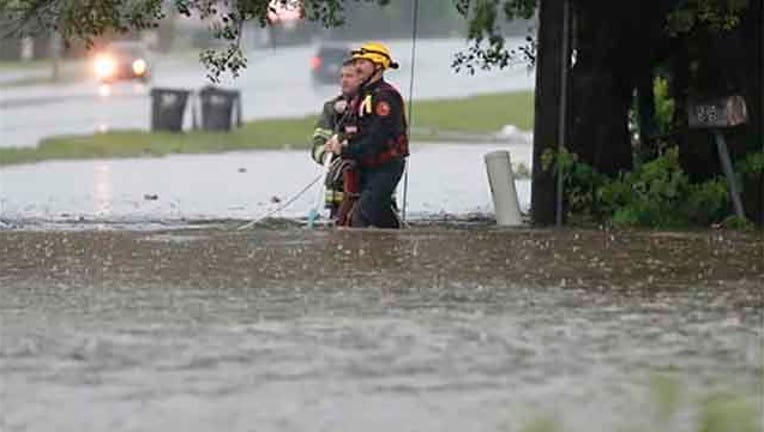 article
HOUSTON (AP) — While the barrage of deadly thunderstorms that hit Texas has tapered, many cities remain in danger, and officials have warned about the possibility of more flooding from rain-swollen rivers as the week goes on.
In suburban Houston, the rains have pushed the San Jacinto River above flood stage, and its waters were expected to cover streets in subdivisions along the west fork of the river, possibly stranding people in their homes for days if they don't leave.
In Wharton, about 60 miles southwest of Houston, the mayor asked residents to voluntarily evacuate about 300 homes on the west side of the city due to the predicted rise of the Colorado River. In the Parker County town of Horseshoe Bend in North Texas, officials asked about 250 residents to leave their homes as the Brazos River was expected to rise above its flood stage of 21 feet on Thursday.
Meanwhile, in Central Texas, crews continued searching for nine people feared dead after the swollen Blanco River smashed through Wimberley, a small tourist town between San Antonio and Austin, over the Memorial Day weekend. In Houston, residents whose homes were flooded by torrential rains on Monday and Tuesday also continued their cleanup efforts. The storms and floods in Texas and Oklahoma this week have left at least 21 people dead and about a dozen others missing.
While the Houston area got a respite from rainy weather for most of Wednesday, the heavy rains from earlier in the week were still making their way downstream. By late Wednesday, the San Jacinto was at 52 feet, nearly three feet above its flood stage, said Kim Jackson, a spokeswoman for the Harris County Flood Control District.
"We're advising residents to take any measures that they deem appropriate for their safety as the river continues to rise," she said.
Joey Shedd, 23, didn't plan on evacuating his home in the Moonshine Hill neighborhood located along the San Jacinto. Shedd said his home is safe because it stands on stilts, but he expected his parents' home next door to flood as it is on the ground.
"It hasn't been this bad since Hurricane Ike (in 2008). This barely makes it to my house," he said of the all-terrain vehicle he was using to ride across the flooded roadway that leads to his neighborhood in a rural area northeast of Houston.
Chuck Bayne was among those who decided to follow the advice of officials and leave his North Texas home in Horseshoe Bend, about 70 miles west of Dallas. On Wednesday, Bayne, owner of the Brazos RV Resort, headed to his second home in Arlington.
"Everybody on the river is leaving — except you have a couple dozen who aren't leaving. They're afraid of looters, and some are just plain stubborn," he said.
In Wharton, the Colorado River is expected to crest at 45.8 feet, which is nearly seven feet above its flood stage, by Friday.
"Our main concern was getting residents ahead of the game and giving them notice to voluntary evacuate," said Paula Favors, city secretary in Wharton, which has more than 8,800 residents.
In Houston, between 800 and 1,400 homes have already been damaged by the flooding. Thousands of homes were also damaged or destroyed in the central Texas corridor that includes Wimberley — 744 of them in San Marcos alone.
This has been the wettest month on record for Texas, even with several days left. The state climatologist's office said Wednesday that Texas has gotten an average of 7.54 inches of rain in May, breaking the old record of 6.66 inches, set in June 2004. While rain is in the forecast the next couple of days for many of the affected areas, the chances for showers are greater during the weekend.
On the banks of the Blanco in Central Texas, Brian Martinez and his wife, Pam, continued Wednesday to clean up their home after it was swamped when the river crested Sunday.
"I've cried all day," said Pam Martinez. "Every time I opened a drawer and saw there was more water. It was too much for me."