Ted Cruz desperately seeks to stop Trump's momentum in Indiana Primary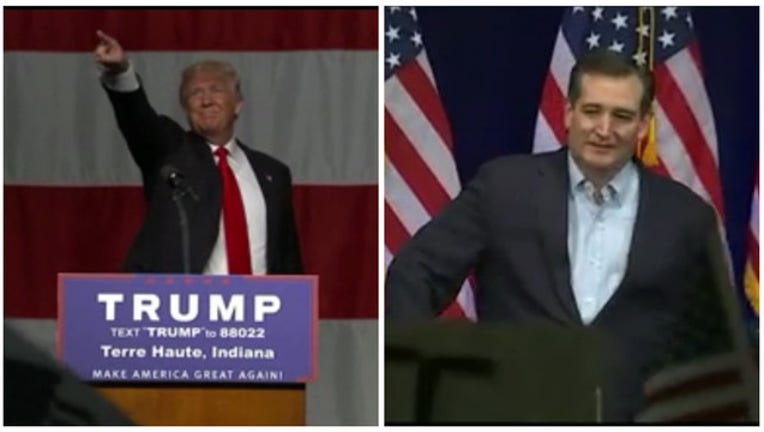 article
INDIANAPOLIS (AP) - Republican Ted Cruz faces a high-stakes test for his slumping presidential campaign in Tuesday's Indiana primary, one of the last opportunities for the Texas senator to halt Donald Trump's stunning march toward the GOP nomination.
Cruz has spent the past week camped out in Indiana, securing the support of the state's governor and announcing retired technology executive Carly Fiorina as his running mate. Yet his aides were pessimistic heading into Tuesday's voting and were prepared for Cruz to fall short, though the senator vowed to stay in the race, regardless of the results.
"I am in for the distance, as long as we have a viable path to victory," Cruz told reporters on Monday during a campaign stop.
Trump devoted more time to campaigning in Indiana than he has to most other states, underscoring his eagerness to put his Republican rival away and shift his attention toward Democratic front-runner Hillary Clinton. While Trump cannot clinch the nomination with a big win in Indiana, his path would get easier and he would have more room for error in the campaign's final contests.
"Indiana is very important, because if I win that's the end of it. It would be over," Trump said during a lunch stop Monday in Indianapolis.
Republican leaders spent months dismissing Trump as little more than an entertainer who would fade once voting started. But Republican primary voters have stuck with the billionaire businessman, handing him victories in every region of the country, including a string of six straight wins on the East Coast.
Clinton and Vermont Sen. Bernie Sanders also faced off in Indiana's Democratic primary on Tuesday, though the stakes were lower than in the Republican race. Clinton holds a commanding lead over Sanders -- she's secured 91 percent of the delegates she needs to win the nomination. That means she can still win the nomination even if she loses every remaining contest.
Sanders has conceded that he faces a difficult path to overtake Clinton, one that hinges on convincing superdelegates to back him over the former secretary of state. Superdelegates are Democratic Party insiders who can support the candidate of their choice, regardless of how their states vote. And they favor Clinton by a nearly 18-1 margin.
Neither Clinton nor Sanders planned to spend Tuesday in Indiana. Sanders was making stops in Kentucky, which holds a primary in mid-May, while Clinton moved on to Ohio, a key general election battleground.
Clinton's team has started deploying staff to states that will be crucial in November and is also raising money for the fall campaign. Even as Trump hires more staff to round out his slim team, he already lags far behind Clinton in general election preparations.
A showdown between Clinton and Trump would pit one of Democrats' most popular and highly-regarded figures against a first-time political candidate who is deeply divisive within his own party. Cruz and other Republicans have argued that Trump would be roundly defeated in the general election, denying their party the White House for a third straight term.
But Trump is the only Republican left in the race who can secure the 1,237 delegates needed for the nomination through regular primary voting. Cruz -- as well as Ohio Gov. John Kasich, who trails significantly in the delegate count -- must try to block Trump in Indiana and the handful of other remaining states to push the race toward a contested convention.
In an abrupt strategy shift, Cruz and Kasich announced an alliance of sorts in Indiana. The Ohio governor agreed to stop spending money in Indiana to give Cruz a chance to compete head-to-head with Trump. Cruz has pledged to do the same for Kasich in Oregon and New Mexico, which vote in the coming weeks.
But that strategy, which appeared to unravel even as it was announced, may have backfired. A recent NBC News/Wall Street Journal/Marist poll found that nearly 6 in 10 Indiana primary voters disapproved of the Cruz-Kasich alliance.
"After they made the alliance, their numbers tanked," Trump said Monday. "That's what happens when politicians make deals."