Teen's viral photos pay homage to her parents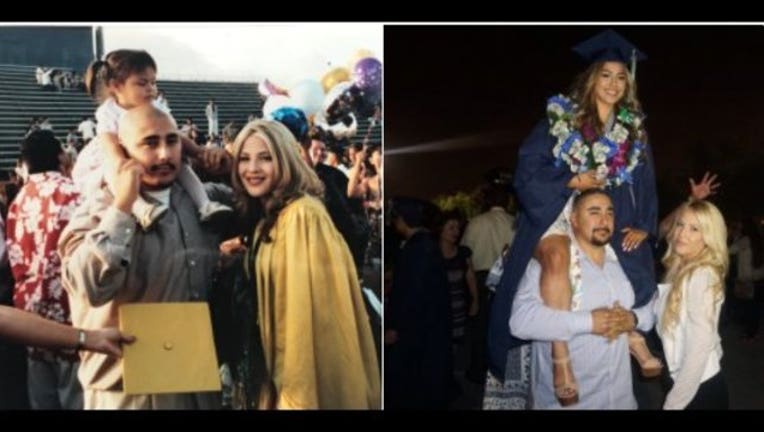 article
CHINO HILLS, Calif. (KTVU) - A Southern California teen has posted a pair of family photos that's got the internet's attention: One is a throwback from 2000, showing her atop her daddy's shoulders as a 2-year-old. It was taken at her mother's graduation from high school.
Next to that photo, is a picture from present day. Again she's on her father's shoulders, but this time it is she who is graduating.
And the caption is simple, yet packs a punch: "yeah that's right, we made it TOGETHER."
Since posting the photos to Twitter last Thursday, they've been shared more than 76,000 times and received more than 329,000 likes.
Jacqueline Tarin's parents were high school sweethearts. Her mother got pregnant and became a teen mom at the age of 16. But that life altering event did not stop her from graduating.
In fact, with the help of family, Jacqueline says that her mom was able to keep going to school, even after having her. "My mom never took a semester off and continued to play soccer too," the teen said. 
Jacqueline's parents ended up getting married in their 20's and their family grew. Jacqueline became one of three children. 
She says that she is extremely proud of her parents for all the hard work they put into their family and for her, they exemplify what it means to strive to do your best no matter what odds are against you. 
"They beat the statistics," Jacqueline told KTVU. 
She added that she posted the photos as a symbol to show that if you work hard, you can get to where you want.
"I plan to continue to work hard and strive to do well in college," Jacqueline said. 
The teen is now headed to Rider University in New Jersey. The accomplished soccer player received an athletic and academic scholarship to play Division 1 soccer at the university.
She hopes to study health sciences and become an occupational therapist.