Tesla wins jury trial over autopilot in fatal California crash
Tesla Motors Inc. successfully argued its autopilot program was not responsible for a fatal crash that happened in Riverside County in 2019, a jury ruled on Tuesday.
Micah Lee, Lindsay Molander and a minor were traveling inside a Tesla Model 3 when it slammed into a palm tree on Interstate 215 near the McCall Boulevard Overpass in Sun City. The vehicle was in autopilot mode at the time of the crash. 
Lee was killed, and the minor was severely injured. Molander and the minor sued Tesla for $400 million, alleging Tesla's autopilot program was ridden with deficiencies.
"The autopilot failed due to negligent design, manufacture, assembly, testing and marketing," the plaintiffs alleged in their original complaint. "In addition, the autopilot lacked proper design, lacked a properly designed central processing unit, algorithms, among other negligence in the design, manufacturing, assembly testing and marketing that prevented the autopilot from operating properly in the subject collision."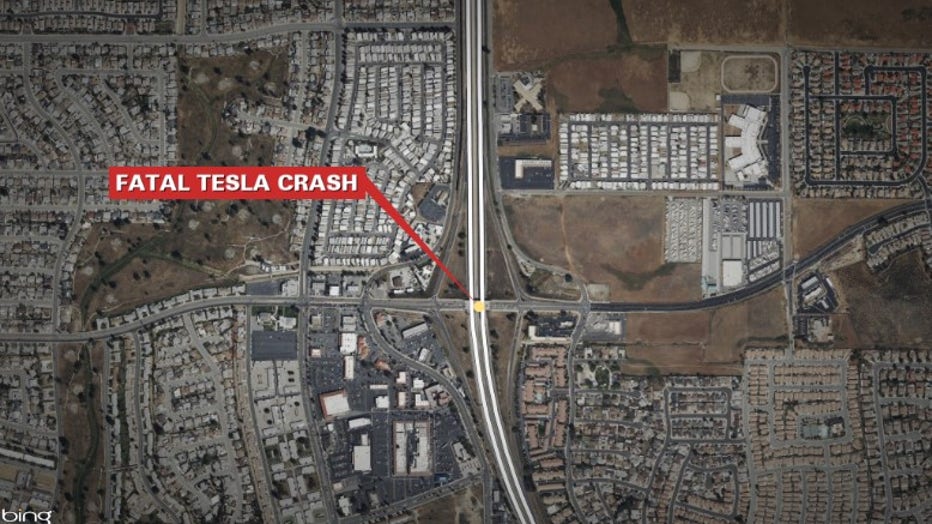 This is where the fatal Tesla crash took place in 2019
However, a 12-person jury determined on Tuesday that the autopilot feature was not the cause of the crash.
This is the second high-profile case that Tesla has battled over its autopilot technology this year. The electric vehicle manufacturer won the first trial over a non-fatal autopilot crash in Los Angeles. That was also a jury trial, and the jurors rejected the driver's claim that the autopilot was responsible for her Tesla careening into a median in a city street. 
Tesla's autopilot feature has faced especially harsh criticism after several crashes across the Bay Area.
On Thanksgiving Day 2022, a Tesla Model S utilizing autopilot while traveling on the Bay Bridge caused a crash when it abruptly changed lanes and slammed on the brakes. The vehicle was in the fast lane when it braked, leaving other drivers with little time to respond. The Tesla was rear-ended before at least eight other vehicles crashed, causing a pileup on the bridge.
The automaker states on its website that autopilot is meant to be used by a fully attentive driver behind the wheel.