Texas teacher goes viral for mental health check in board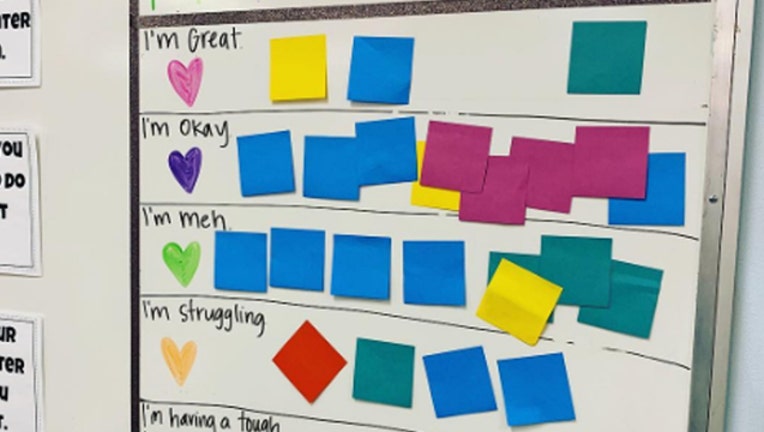 article
LUBBOCK, Texas (FOX 7 Austin) - A Texas teacher has been receiving a lot of online praise for a new method she has rolled out in her classroom to check in with students. It's called a 'mental health check in board,' and it allows students to communicate how they are feeling by using sticky notes. 
Jessie Cayton is an 8th grade English teacher at the Cavazos Middle School in Lubbock, Texas.
She has been using forms on Google Docs for the last few years to regularly check in with her students and their emotional state. Recently though, Jessie was inspired to try a new board after she saw an Instagram post by Erin Castillo, a high school English teacher for students with mild to moderate learning needs in San Francisco.
Jessie is one of many teachers who have introduced a mental health check-in board designed for students to communicate how they're feeling by using sticky notes. The check-in board encourages students to write their names on the back of a sticky note and then placed it in the row that most accurately aligns with how they're feeling 'right now.'
"Time away from school is really hard for some of my kids. Coming back to school can be really tough, too. We're sleepy, or cranky, or anxious, or turned all the way up to 1,000," Jessie explained in a caption. "It's easy to misinterpret behavior and it's cause. But I'm grateful (especially as the day goes on) to have a little context for why we might be making the choices we are."
To download a free mental health check-in poster, click here.
FOX 7 Austin reported this story from Austin
---
RELATED
Virtual coaches train teachers to help at-risk students
Texas House passes sweeping education reform bill
Teaching assistant arrested for inappropriately touching children
Teachers rally at Capitol for more pay