Thief steals from San Jose group that puts on free movie nights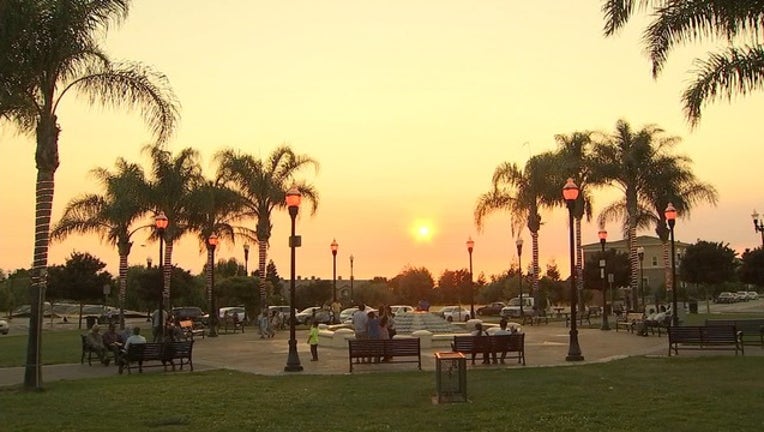 Free movie nights in one San Jose neighborhood almost had to be canceled after someone stole thousands of dollars worth of equipment. The movie nights are held at Evergreen Valley Square.
The community group that puts it on had to borrow equipment from the City of San Jose for last Friday's showing. Now, they're turning to the public for help.
At Evergreen Valley Square in San Jose, three Fridays in the summer at sunset, hundreds of families gather for free movie nights. Many children look forward to it every year.
Now in its 11th year, the first summer movie night showing of "Despicable Me 3" almost didn't happen. Rose Herrera is the president of "Involved Evergreen."
"I was really sad," said Herrera. "I was really disappointed and sad."
Last Friday afternoon, the group discovered most of their audio and visual equipment was stolen from a shed inside a trash enclosure behind the Evergreen Village Square Library. 
"This lock was cut," said Volunteer Jim Zito. "If you look in there, there's a shed, the shed has both a hand lock and a padlock."
Zito is a volunteer and said the thief likely used bolt cutters to break through three locks and knew what they were after.
"I hope they really needed it because they took a gem of a service away from our community," said Zito. 
The equipment is valued at $5,000. If you ask some of the families, the nights are more than just a movie. It's about building community.
"I really liked being out with people that I knew and really liked bonding with the community and really getting to know everyone," said Annabel Gensler of San Jose. 
Two high-powered speakers, stands, a mixing box,cables, microphones and a Blu-ray player were stolen. The thief didn't take the large video screen nor projector. Now, the all-volunteer group is looking to raise money or get a big donation to keep the tradition going.
"The community really appreciates it," said Herrera. "This time, when our nation, our world is so divided and we see so much division, this is a way to bring everyone together."
It's unclear when the theft happened. The group didn't realize the equipment was gone until last Friday and there doesn't appear to be any surveillance cameras around. The next movie night is July 20. The group will be showing "Coco."