Thomas Fire now ranks as California's third-largest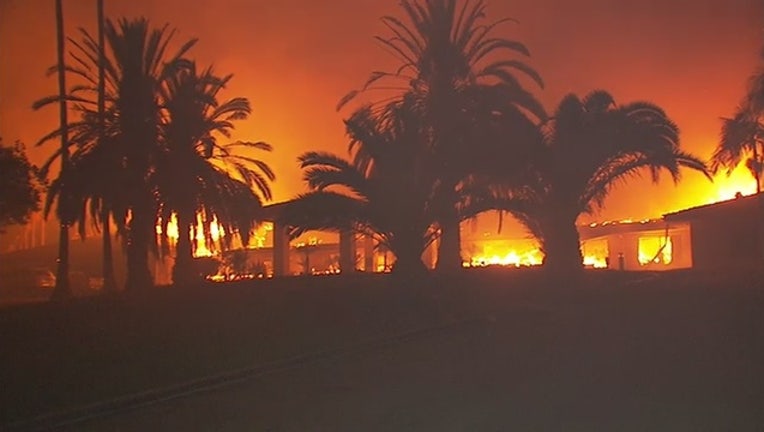 SANTA BARBARA, Calif. (AP) -- The massive wildfire that California has been battling since early December has now ballooned into the third-largest in the state's history, burning a record amount of acreage, officials said Saturday. 
Steve Concialdi of the Orange County Fire Authority said the Thomas Fire, which started Dec. 4 in Santa Paula, has now burned 259,000 acres (nearly 105,000 hectares). That exceeds the devastating Rim Fire in 2013 by 2,000 acres.
"As of this morning, we're at 259,000 acres and still growing," Concialdi said.
The region has had "red flag" -- or hot, dry and windy -- conditions for an unprecedented 13 consecutive days. 
The National Weather Service says those conditions would last at least through Saturday evening, with winds gusting to 40 mph in the Santa Barbara County mountains where the fire is burning. 
Everything about the fire was massive, from a footprint larger than that of many cities to the sheer scale of destruction that cremated entire neighborhoods or the legions attacking it: about 8,300 firefighters from nearly a dozen states, aided by 78 bulldozers and 29 helicopters that were dropping thousands of gallons (liters) of water on fires and hot spots.
Firefighting costs were approaching $89 million.
The Thomas Fire surging through Ventura and Santa Barbara counties has already burned more than 1,000 buildings, including well over 750 homes.  Another 18,000 buildings are still in jeopardy, including mansions in the wealthy enclave of Montecito. Some 315 fire engines are stationed in and around homes in Montecito and Santa Barbara, along with "hand crews" armed with equipment like chain saws and drop torches. Another 200 fire engines are on standby.
Concialdi said authorities are hoping to have the blaze contained by Jan. 7. 
Santa Barbara has had only a tiny amount of rain since Oct. 1, the start of the new water year, and is more than 3 inches (7.6 centimeters) below normal to date.
Another focus of firefighting was on the eastern flank in canyons where a state firefighter was killed Thursday near the agricultural town of Fillmore.
Officials have released no details on the death of 32-year-old Cory Iverson, but it was a stunning blow to those fighting the flames. 
"When that happened, this fire hit a whole new level because all the firefighters know that could have been them," Concialdi said. "When you lose a fellow brother, that hits all of us and our families extremely hard."