Tigers drop 6th straight, 6-1 to Athletics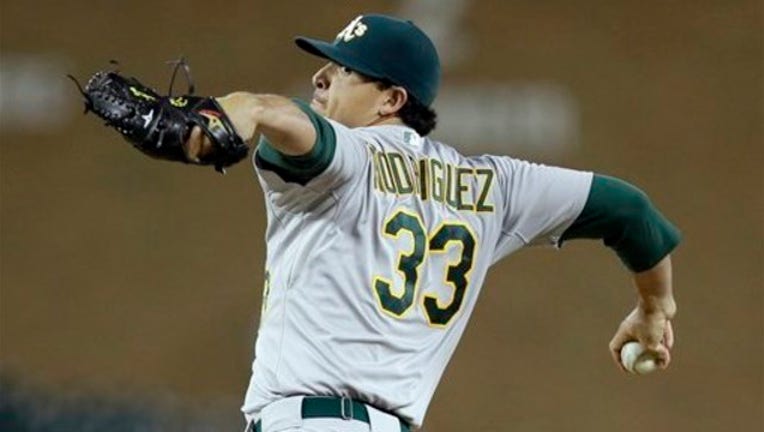 article
DETROIT (AP) — Brad Ausmus is convinced that, by October, his Detroit Tigers will show everything they have.
Right now, they aren't even close.
Sonny Gray held the Tigers scoreless for eight innings, and only Miguel Cabrera's RBI double in the ninth kept Detroit from being shut out for the third time in nine games. As it was, Oakland's 6-1 victory was the Tigers' sixth straight loss and ninth in 11 games.
"The effort is there and the talent is there," Ausmus said. "You have to believe that over 162 games in six months, it is going to come out."
In those 11 games, the Tigers are hitting .218 with four homers and averaging 2.5 runs. They have been running more, in an attempt to make this happen, but have only been successful in four of 12 stolen-base attempts.
"We have too many good hitters in this room — it is bound to change," J.D. Martinez said. "At some point, we're going to be breaking bats and getting hits off them, and people will wonder why we have so much luck."
Gray (7-2) had the Tigers beating the ball into the ground all game, with Oakland's outfielders only making one putout while he was on the mound. He struck out seven and allowed two singles and a walk.
"I had a really good fastball tonight — both two-seam and four-seam — and that was getting a lot of weak contact," he said. "That was the goal against so many right-handed hitters — get the sinker working and get as many ground balls as I could."
Anibal Sanchez (3-7) allowed four runs, five hits and four walks in seven innings. After striking out 20 batters in his previous two starts, he only had one against Oakland.
"What can I say? I thought it was a really good game," he said. "I'm going to give credit to the other pitcher. Sonny threw a really good ball game and I just missed a couple pitches."
In the second inning, Oakland loaded the bases on a double and two walks, and Billy Burns took an inside pitch the other way for a three-run triple.
The A's made it 4-0 in the third on Josh Reddick's eighth homer. Sanchez — the toughest starter to homer against in 2013-14 — is on pace to allow 42 home runs this season. That would tie Denny McLain's franchise record, set in 1966.
In the meantime, the Tigers couldn't get anything going against Gray and showed signs of frustration.
After Anthony Gose struck out to end the third, he threw a warm-up ball into the ivy above the fence in center field. The ball fell back onto the field, so Gose fired it out of the stadium and into an adjoining parking lot.
"We think we've got a good chance to win when he's on the mound, and that's been true since he got here," Oakland manager Bob Melvin said. "It says a lot to see the kind of confidence he gives you when he's out there."
Yoenis Cespedes ended his former teammate's no-hit bid with a two-out single in the fourth, but the Tigers didn't get their second hit until Cabrera led off the seventh with a single.
Brett Lawrie gave the A's a five-run lead with a 420-foot RBI double in the eighth, and Stephen Vogt finished the scoring with a sacrifice fly in the ninth.
Cabrera got Detroit on the board with an RBI double off Francisco Rodriguez in the ninth.
TRAINER'S ROOM:
Athletics: Oakland has nine players on the DL, and has had at least that many for the last two weeks. The A's have had seven or more players disabled all season, and currently have four on the 60-day DL.
Tigers: RHP Justin Verlander is scheduled to make his second rehab start Saturday for Triple-A Toledo. Verlander, who has missed the entire season, will be wearing a special Jurassic Park-themed jersey for the game, thanks to a Toledo promotion.
UP NEXT:
The teams finish the three-game series with Shane Greene (4-4, 5.19) facing Oakland's Jesse Hahn (2-5, 3.77). In Greene's last start, he became the first pitcher in MLB history to allow five homers in an outing of less than two innings. Hahn pitched his first career shutout on May 25 against the Tigers.