Tigertown: Morris, Trammell elected to baseball Hall of Fame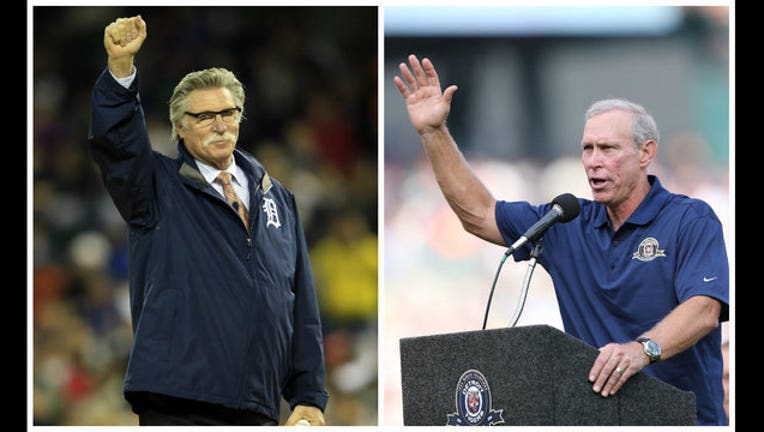 article
By BEN WALKER
LAKE BUENA VISTA, Fla. (AP) -- Former Detroit Tigers teammates Jack Morris and Alan Trammell were elected to the baseball Hall of Fame on Sunday, completing the journey from Motown to Cooperstown.
Morris, a big-game pitcher, and Trammell, a star shortstop, were picked by a 16-man Modern Baseball Era committee that considered 10 candidates whose biggest contributions came from 1970-87.
Morris got 14 votes and Trammell drew 13, one more than the minimum needed.
They'll be enshrined on July 29. Fitting that they'll go in together -- they both began their big league careers in 1977 with Detroit, and played 13 seasons alongside each other with the Tigers.
"Time has made this even more special. I've learned a lot along the way," the 62-year-old Morris said on a conference call.
Former catcher Ted Simmons fell one vote short of election and former players' union head Marvin Miller was five shy of the 12 needed for election.
A durable right-hander, Morris posted 254 wins. His most famous victory was a 10-inning shutout, winning 1-0 for Minnesota over Atlanta in Game 7 of the 1991 World Series.
"No question it was my defining moment in baseball," Morris said. "I've never pitched a game where I had better focus. I never had a negative thought, even though I was in trouble several times."
Morris had a 3.90 ERA, the highest of any pitcher in the Hall. He also won World Series in Detroit -- with Trammell, in 1984 -- and Toronto in 1992.
Now 59, Trammell was a steady presence in the middle of the diamond while playing all 20 of his seasons in Detroit.
Trammell was the 1984 World Series MVP, hitting .450 as the Tigers trounced San Diego in five games and finished off a season in which they started out 35-5.
A six-time All-Star and four-time Gold Glover, Trammell scored 1,231 runs and drove in 1,003. He batted .285 with 185 home runs and a .352 on-base average -- he walked 850 times and struck out 874.
Trammell never came close to election during his 15 tries on the Hall ballot in voting by Baseball Writers' Association of America members. His best showing came in his last year, when he got 40.9 percent in 2016.
Morris got a lot closer.
Starting at 22 percent in his first Hall ballot appearance in 2000, Morris peaked at 67.7 percent in 2003, falling 42 short. He dropped to 61.5 percent four years ago in his final time on the writers' ballot, 78 votes shy.
Hall of Fame players George Brett, Rod Carew, Dennis Eckersley, Don Sutton, Dave Winfield and Robin Yount were on the panel that voted.
Steve Garvey, Tommy John, Don Mattingly, Dale Murphy, Dave Parker and Luis Tiant also were on the ballot. 
Miller, who headed the players' union from 1966-82 was on the ballot for the seventh time.
Miller drew 44 percent in 2003 and 63 percent in 2007 when all Hall of Famers could vote on the veterans panel. After the Hall downsized the committee, he got 3 of 12 votes in 2007, 7 of 12 in 2009 and 11 of 16 in 2010, one fewer than the necessary 75 percent. Four years ago, he was at least six votes shy.
In 2008, four years before he died, Miller sent a letter to the BBWAA saying he didn't want to be considered anymore.
The BBWAA annual vote on players will be announced Jan. 24.
Chipper Jones, Jim Thome and Omar Vizquel are among 19 first-time candidates, and Trevor Hoffman, Vladimir Guerrero, Edgar Martinez, Roger Clemens are Barry Bonds among the holdovers.