Tropical storm Blanca triggers lightning ignited wildfires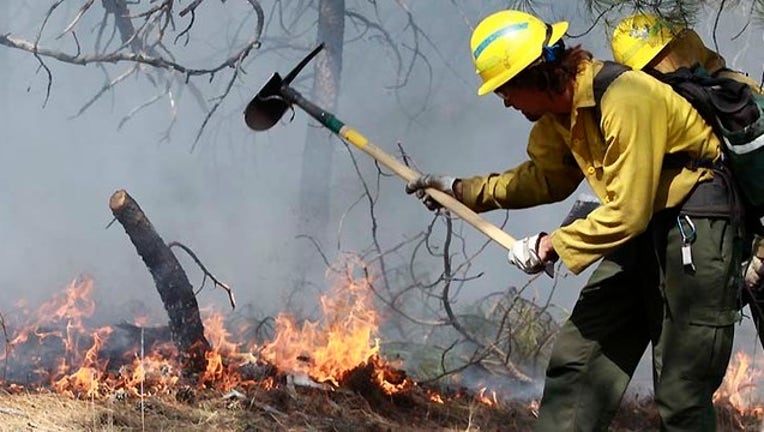 article
REDDING, Calif. (KTVU) – More than 100 U.S. Forest Service smoke jumpers gathered at the agency's base in Redding Wednesday poised to battle wildfires ignited by lightning strikes from storms fueled by tropical storm Blanca.
U.S. Forest Service Pacific Southwest Region spokesman John Heil said at least 58 separate wildfires had been ignited over the last 48 hours as the heat and humidity from the storm system triggered lightning storms throughout Northern California.
The blazes were all small in nature – the largest was 30 acres – but the Forest Service was taking no chances.
One hundred smoke jumpers from around the West were expected to be at the Forest Service's Redding base by the end of the day. Ten helicopters will also be on the base.
As of Wednesday afternoon, the most active region was Six Rivers National Forest near the Oregon border where lightning had sparked 18 separate small wildfires.
Meanwhile, Shasta-Trinity National Forest had 13.
Heil said 45 of the 58 fires were burning in Northern California's seven National Forests with another 13 on state property.
Lightning wasn't the only issue from the storm. The National Weather Service was predicting a wild weather day for the Central Valley and the Sierra.
Forecasters said the weather front would slowly move through the region with intense thunderstorms developing throughout the day.
A flash flood watch was issued for the Tahoe-Reno area for 11 a.m. until 11 p.m.
In the Bay Area, the storm did most of its damage during the morning commuter.
The Bay Area rain totals were impressive for June with 0.23 of an inch falling in Daly City and Petaluma by 7:30 a.m. Napa had 0.17 of an inch and San Francisco International Airport saw 0.15 of an inch fall over the same time span.
There has been more rain in the Bay Area this June than in all of January. However, forecasters said the rains will not bring any drought relief.
"Not even a dent," said forecaster Steve Anderson when asked about the rainfall's impact on the parched conditions in Northern California. "Won't even register."
Meanwhile, the wet roadways and accidents made for a tedious morning Bay Area commute with the travel time from the Carquinez Bridge to the Bay Bridge stretching to 71 minutes along Highway 80.