Truck passenger killed in crash on Hwy 101 in San Jose was former Irvine cop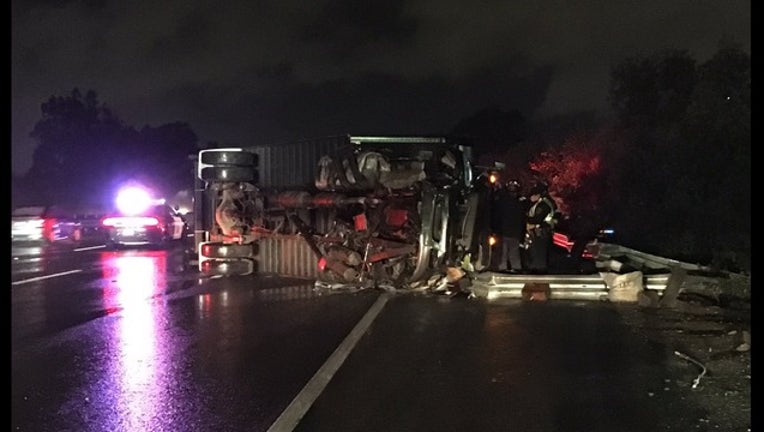 article
SAN JOSE, Calif. (KTVU) - A retired Irvine police officer died in a rollover truck crash on U.S. Highway 101 in San Jose on Wednesday, according to police and the Santa Clara County medical examiner's office.
Richard Bartolo, a 64-year-old from San Dimas, was a passenger in a box truck that overturned after the driver fell asleep at the wheel, according to the California Highway Patrol.
Bartolo worked for Irvine police from 1984 to 2005, when he retired, according to police spokeswoman Kim Mohr.
"Rich was an incredible man who was loved by everyone at the Irvine Police Department," Police Chief Mike Hamel said in a statement. "We thank him for his dedicated service to his community. Our thoughts and prayers are with his family."
More: Driver of box truck says he fell asleep, passenger dies on US 101 in San Jose
The crash happened shortly after 3:45 a.m. on northbound Highway 101 north of McKee Road. The truck driver allowed the truck to leave the road, drive up a slight embankment on the right shoulder and overturn, according to the CHP.
The truck hit a concrete box on the right shoulder, slid on its side and hit a guardrail before stopping. The 67-year-old driver suffered major injuries. Bartolo was sleeping in the back of the truck and wasn't properly restrained, according to the CHP.
He and the driver were working for Security Industry Specialists Inc. 
"Out of respect for our employees and their families, SIS will not release further details on this incident," the company said in a statement Wednesday. "SIS requests that the public and media respect the privacy of those affected by this tragic event."
The crash is under investigation by the CHP. Alcohol and drug use are not suspected as factors.