Trump bashes California on border mission, Brown sees a deal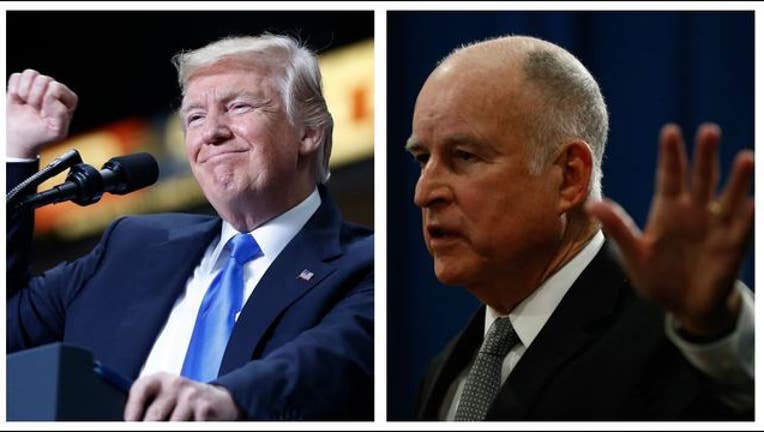 article
WASHINGTON (AP) - President Donald Trump on Tuesday slammed California Gov. Jerry Brown's posture on sending National Guard troops to the Mexican border even as Brown said he was nearing agreement on joining the president's mission.
The volley of words came a day after federal officials said Brown rejected a proposal for the California Guard's specific border duties, a characterization that state officials disputed.
"Looks like Jerry Brown and California are not looking for safety and security along their very porous Border," Trump wrote in an early-morning tweet. "He cannot come to terms for the National Guard to patrol and protect the Border."
Brown's office responded with a tweet reiterating its public stance that nothing has changed since the governor pledged 400 troops last week and that the state was waiting on a response to proposed contract that would include a ban on any activities related to immigration enforcement.
The Democratic governor said California was "pretty close" to an agreement with the administration to join the nation's three other Mexican border states - Arizona, New Mexico and Texas - for the Guard's third large-scale border deployment since 2006.
Brown expressed strong interest in work against drug and gun smuggling and human trafficking, noting that the California Guard already had about 50 troops near the border on such efforts.
"It is a very logical next step to add a couple hundred more, or more than that, and the Guard is chomping at the bit ready to go and so, I think we'll get there," Brown told reporters at the National Press Club in Washington.
The Republican governors of Arizona, New Mexico and Texas have openly embraced the administration's plans and specific jobs for their troops, along with Trump's premise to fight illegal immigration and drugs. Troops from Texas are already doing aerial and ground surveillance to assist the Border Patrol. The Arizona National Guard said last week that its troops will provide air and ground support.
Brown has conditioned his contribution of 400 troops on avoiding any immigration work, even in a supporting role. Talks with the federal government on what specific jobs that would entail are ongoing. It is unclear how troops would distinguish work related on immigration from drug smuggling and other crimes.
Ronald Vitiello, U.S. Customs and Border Protection's acting deputy commissioner, said Monday that Brown rejected terms of an initial troop rollout that was similar to plans for Arizona, New Mexico and Texas. But Vitiello emphasized that California may contribute in other ways must still be worked out. Robert Salesses, the Defense Department's deputy assistant secretary for homeland defense integration, said the initial phase had called for 237 California troops.
According to two U.S. officials, the federal government's initial rollout of National Guard member border duties includes fixing and maintaining vehicles, using remote-control surveillance cameras to report suspicious activity to U.S. Border Patrol agents, operating radios and providing "mission support," which can include clerical work, buying gas and handling payrolls. The officials spoke to The Associated Press on condition of anonymity because they were not authorized to discuss the matter.
Brown elicited rare and effusive praise from Trump last week when he pledged 400 troops, which helped put the president above the lower end of his threshold of marshaling 2,000 to 4,000 troops for his border mission. The governor cast his decision as a welcome infusion of support paid for by the U.S. government to fight transnational criminal gangs and drug and firearms smugglers.
The Guard had about 900 troops working on the border mission Monday, a number that changes daily, said Lt. General Daniel R. Hokanson, the National Guard Bureau's vice chief. Nearly 250 were in Arizona, more than 60 in New Mexico and about 650 in Texas.
___
Associated Press writers Kathleen Ronanye in Sacramento, California, and Darlene Superville in Washington contributed to this report.