Trump coming to San Francisco Bay Area for fundraiser, lunch tickets cost up to $100,000 per couple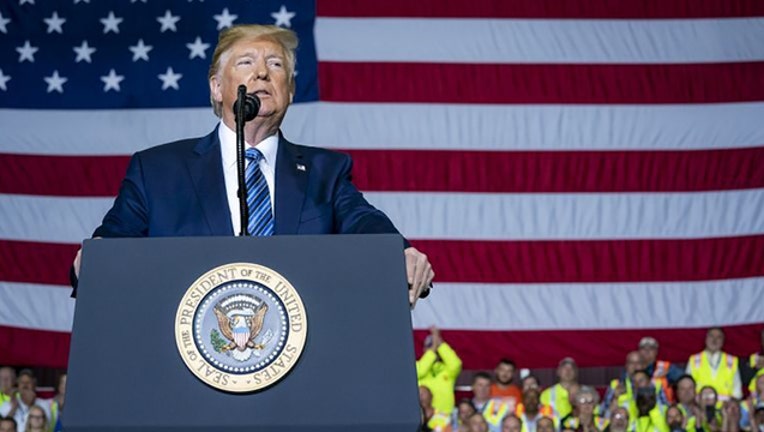 SAN FRANCISCO, Calif. (KTVU) - President Donald Trump is heading to California for a pair of fundraisers next month. 
The exact locations aren't known for security reasons, but the Secure Victory for Trump website states that Trump is coming to the Bay Area on Sept. 17.  Additional details will be made available only to those who RSVP. 
Dining with Trump will  cost up to $100,000 per couple, which includes two tickets to the roundtable, a photo opportunity with the president and "premier seating for lunch," according to the invitation.  Individual tickets cost $1,000, $2,800 or $5,600 for gold-level seating. "Trump victory membership benefits" are included in this invitation.
Harmeet Dhillon, an attorney in San Francisco and the Republican National Committeewoman, said  she and her husband will attend along with "many friends."
This won't be the first time she has met Trump. She's spoken at the White House before and was introduced by POTUS. 
Trump's Bay Area event will be hosted by RNC chairwoman Ronna McDaniel, GOP co-chair Tommy Hicks Jr., Trump campaign manager Brad Parscale and RNC Finance Chairman Todd Ricketts.
Politico's Alex Isenstadt first tweeted the news. 
According to Fox 40 in Sacramento, Trump will head to San Diego the following day. 
This will mark the fourth time Trump visits California and the first time he visits the Bay Area as president.
However, Trump has been to the Bay Area before when he was on the campaign trail. In April 2016, he gave a speech at a GOP convention in Burlingame, where he had to enter the Hyatt Regency by jumping over a U.S. Highway 101 median because of so many protesters blocking his route. He joked at the time that he felt like he was crossing a "border wall." He was also in San Jose in June of that year at the Donald Trump Rally at the San Jose Convention Center. Anti-Trump demonstrators clashed with the now-president's supporters, many pelting them with eggs and water balloons before punching them and setting 'Make America Great Again' caps on fire.