Trump says 'hard' to imagine Kavanaugh did wrong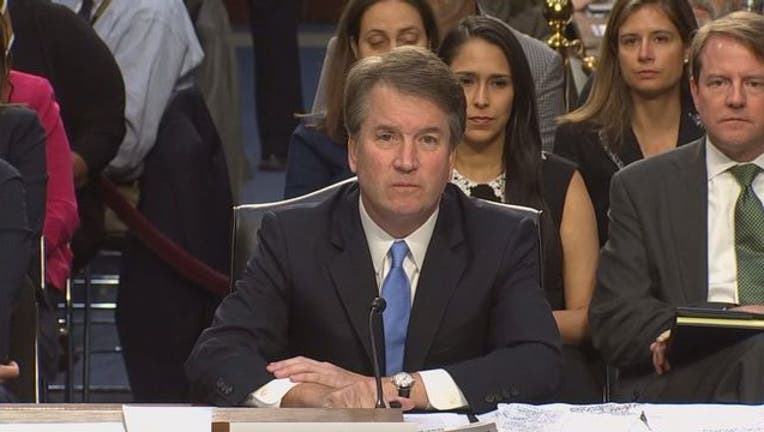 WASHINGTON (AP) - President Donald Trump says "we'll have to make a decision" if Supreme Court nominee Brett Kavanaugh's sexual-assault accuser "makes a credible showing" before the Senate Judiciary Committee. He said Wednesday it would be "very interesting."
Trump calls Kavanaugh an "outstanding man" and says it's "very hard" for him to imagine anything happened.
 
The Judiciary Committee has scheduled a public hearing for Monday and has invited Kavanaugh and California college professor Christine Blasey Ford to testify regarding her allegation against him.
 
Ford says a drunken Kavanaugh assaulted her decades ago when they were teenagers. Kavanaugh has denied Ford's allegation and has said he's willing to appear before the committee.
 
Ford's attorneys say she wants the FBI to investigate her allegation before she testifies. 
Hillary Clinton says the White House should request an FBI investigation of the sexual-assault accusation facing Supreme Court nominee Brett Kavanaugh and any refusal to do so by Republicans amounts to rushing to confirm him.
The former Democratic presidential nominee said on MSNBC on Tuesday the relevant precedent is the FBI's investigation of Anita Hill's sexual-harassment allegation against Clarence Thomas in 1991. Like Kavanaugh, Thomas strongly denied the accusation against him.
Under Republican President George H.W. Bush, the White House asked the FBI add to Thomas' background check. President Donald Trump has refused to do so regarding California college professor Christine Blasey Ford's charge against Kavanaugh.
Clinton says that makes it difficult to "avoid the appearance of insult" against Ford. Clinton says she thinks Republicans are trying to put Ford "in the dock and try to rush this through."
Anita Hill says the Senate Judiciary Committee could be holding a "sham" hearing next week without an FBI investigation of a woman's sexual-assault accusation against Supreme Court nominee Brett Kavanaugh.
Kavanaugh strongly denies the allegation and has suggested California college professor Christine Blasey Ford's account could be a case of mistaken identity.
But Hill told ABC she supports Ford's demand for an FBI investigation before a hearing Senate Republicans have set for Monday. Hill questions whether the Senate hearing "is going to be anything more than just a sham proceeding."
Hill's allegation Clarence Thomas sexually harassed her - and the committee's handling of his confirmation hearings - haunts Washington as a key event that alienated many women. Thomas denied Hill's account and was confirmed to the Supreme Court.
Lawyers for Christine Blasey Ford say that before she testifies on Capitol Hill next week she wants the FBI to investigate her allegation that she was sexually assaulted by Supreme Court nominee Brett Kavanaugh.
But the chairman of the Senate Judiciary Committee, Iowa's Chuck Grassley, says an FBI investigation wouldn't have any bearing on Ford's testimony so "there is no reason for further delay." Other Republicans are suggesting that Ford will have only this one opportunity to testify.
On Tuesday, President Donald Trump showered sympathy on Kavanaugh. The president too has rejected the idea of bringing in the FBI to reopen its background check of the appeals court judge.
Ford's lawyers say she has been the target of "vicious harassment and even death threats" since coming forward with her story.