Two 18-year-olds, Oakland man killed in late night fiery Walnut Creek crash
WALNUT CREEK, Calif. - Two 18-year-old women and a 47-year-old man from Oakland were killed in Walnut Creek in a fiery explosion as the driver took the offramp too fast, according to the California Highway Patrol.
The two women have not been identified, but the Contra Costa County Coroner identified the man on Wednesday as Dimitri Washington. One 18-year-old was the driver and she had a passenger the same age. 
The car crash caught the attention of at least three drivers, including 21-year-old Tania Dorame who had just ended her work shift and was headed home. Dorame called 911 and ran to the burning car.
"I tried to open the doors, but they were all locked," Dorame said. "I tried to bang on the windows, but they wouldn't break. I tried yelling. I didn't hear any responses."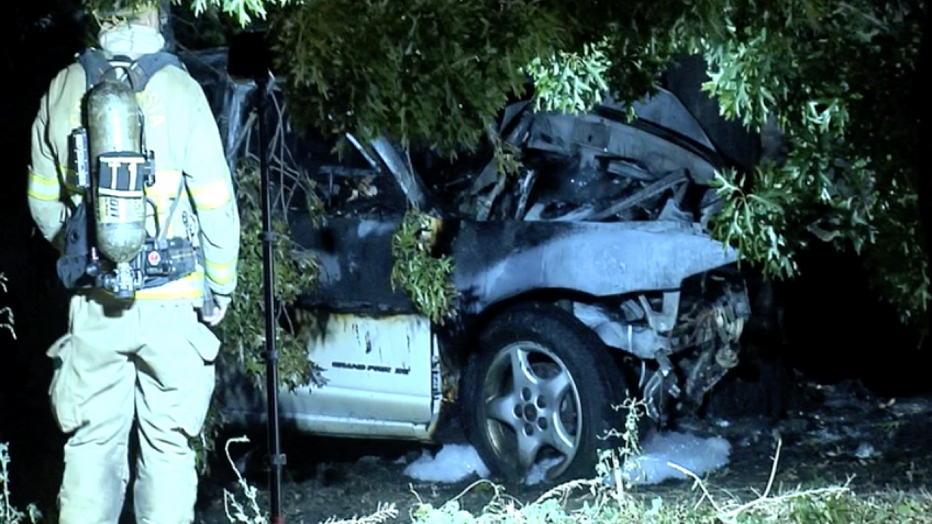 According to the CHP, it appears as though the 18-year-old driver was going too fast about 10:40 p.m. Tuesday in a Pontiac Grand Prix while exiting the North Main Street offramp from northbound Interstate Highway 680. The sharp exit curve has a 25 mile per hour speed limit, according to Contra Costa CHP Officer Brandon Correia.
The Pontiac veered off the road into the dirt and crashed into a tree. Officers said the car caught on fire and became fully engulfed in flames, killing all three people inside. 
"For whatever reason the car veers off the roadway and there's very small tire friction marks which indicate to us that speed was just enough of a factor to not allow the person to negotiate the turn," Correia said. "It's very tragic. "I cannot imagine the pain and sorry that the families are going through for these two very young girls and the gentleman that died as well."
Dorame also feels for the families of the victims. She said she is trying to process what happened.
"Just seeing how it happened and the fact that I couldn't really do more is what's sticking to me right now," she said. "It's very sad. it's very tragic."
The CHP said it's unknown at this time if alcohol or drugs were factors. If anyone witnessed this collision or the vehicle just prior to the collision, please contact Contra Costa CHP at (925)646-4980.