Two-alarm fire damages famed San Francisco pub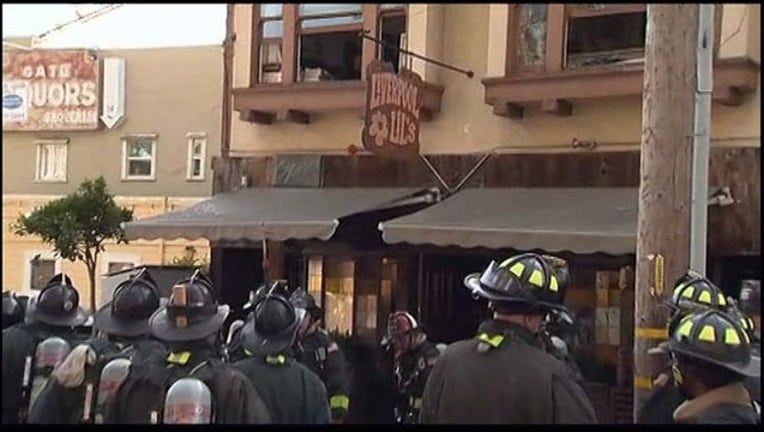 article
SAN FRANCISCO (KTVU and wires) – A two-alarm fire heavily damaged a famed San Francisco neighborhood pub near the Presidio, sending a plume of thick, black smoke soaring over the Marina District early Wednesday morning, authorities said.
According to fire officials, the blaze was reported at 7:30 a.m. at Liverpool Lil's located 2942 Lyon St. near Lombard Street and the entrance to the Presidio.
The second alarm was called in at 7:48 a.m. No injuries have been reported.
Kelly Hanson lives next door to Lil's with her roommates. She was getting ready for work when she smelled smoke.
"There was a lot of black smoke coming out of the second floor of Lil's," she told KTVU Fox 2. "Our kitchen and living room were pretty hazy. You could smell smoke."
Her roommate, Sierra Corbett, initially thought their apartment was on fire.
"We thought it was our apartment," she said. "I was yelling smoke to the girls… We're sad. We love Lil's."
Raymond Archer, the concierge at the nearby Travelodge at 2755 Lombard St., said a portion of the hotel was briefly evacuated during the response to the blaze but that fire crews have since allowed the occupants to return to their rooms.
"The fire crews did an amazing job of stopping the fire before it reached the hotel," Archer said.
Assistant Fire Chief Kevin Burke said the fire apparently started in the rear of the two-story building and extended into the walls and attic above office space on the second floor.
Burke said Liverpool Lil's sustained water and smoke damage and firefighters also had to cut holes in the roof for ventilation while trying to extinguish the blaze.
"They're going to be out for a while," he said of the restaurant, which has been in the restaurant for more than 40 years.
An adjacent building at 2938 Lyon St. also sustained extensive damage because firefighters had to go into the walls to make sure flames hadn't spread there, Burke said.
Investigators haven't determined a cause or if anyone was in Liverpool Lil's when the fire started.