Two injured in early morning Contra Costa County fires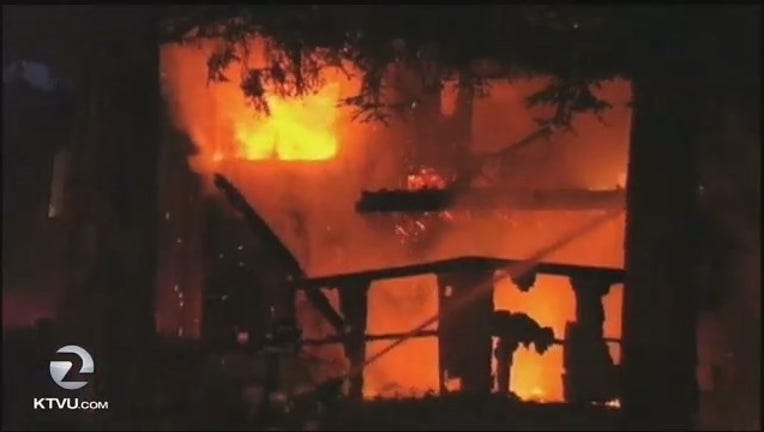 article
WALNUT CREEK, Calif. (KTVU and wires) -- Contra Costa County Fire Protection District firefighters battled a pair of early morning two-alarm fires Wednesday -- one at an unoccupied home in Walnut Creek and another at an apartment complex in Martinez that injured two people, including a police officer.
The first fire was reported at 3:45 a.m. at a home in the 600 block of La Casa Via, located just southeast of John Muir Medical Center in Walnut Creek, Fire Marshal Robert Marshall said.
The blaze was eventually extinguished about an hour later. No injuries were reported, but the house is considered "a total loss," Marshall said.
Fire investigators have not been able to locate the home's owner, who may be overseas. The cause of the blaze is under investigation.
Then at 5:43 a.m., a second two-alarm fire was reported, this time at an apartment building in the 3600 block of Pine Street, just off of state Highway 4 in Martinez.
A female resident in the unit where the fire started suffered smoke inhalation, as did a Martinez police officer who was going unit to unit to get residents out of their apartments.
The officer inhaled smoke while helping to evacuate a resident in the unit below the one where the fire started, Marshall said. The resident had seen flames outside of his window and was trying to put them out with a fire extinguisher but was unsuccessful.
Fire crews extinguished the fire at 6:22 a.m.
Marshall said the response by that officer and other police was helpful in preventing more serious injuries, particularly because firefighters were spread somewhat thin between the two early morning fires.
"We had a whole bunch of people committed and out of position, so having the police there was really invaluable in helping us," he said.
Six units at the apartment building were damaged in the fire, according to Marshall. He said the cause of the blaze remains under investigation.