U.S. Coast Guard offloads 22,000 pounds of cocaine in transnational crime bust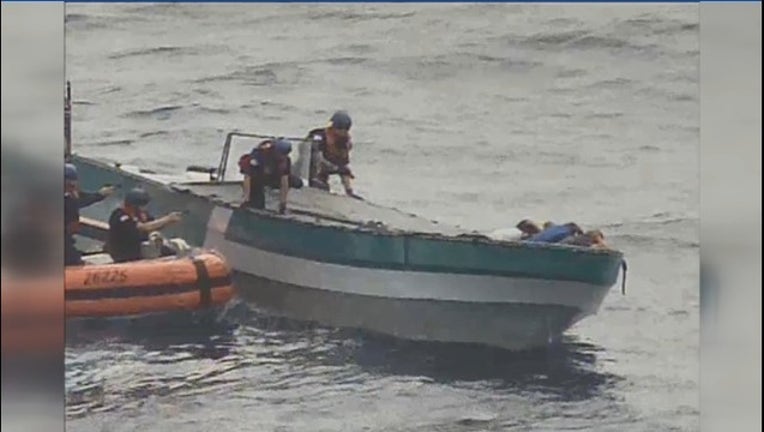 SAN DIEGO, Calif. (KTVU) - More than 11 tons of cocaine seized in less than a month from at-sea interdictions in international waters off the eastern Pacific Ocean was offloaded by the U.S. Coast Guard in San Diego on Wednesday. 
Authorities say they pulled 22,000 pounds of the drug from eight suspected smuggling boats from late August to mid-September off the coasts of Mexico and Central and South America.
"This offload reflects the outstanding efforts of the Coast Guard and our partner agencies to disrupt and dismantle transnational criminal organizations," said Capt. Craig J. Wieschhorster, commanding officer of Coast Guard Cutter Stratton, in a press release. 
Three separate vessels were responsible for the bust. Cutter Stratton, a 418-foot national security cutter home-ported in Alameda, offloaded over 16,000 pounds, while cutters Seneca and Active brought back nearly 3,000 pounds apiece. 
"These interdiction results take hundreds of millions of dollars away from these criminal networks….keeping this product off the streets of America saves lives," Wieschhorster said. "And I am very proud of the efforts of my crew."
Mobile users click here to watch various at-sea interdictions
Numerous U.S. agencies – Departments of Defense, FBI, Homeland Security, and more – combined with the Coast Guard in this counter-drug operation. Once a vessel is detected in an at-sea interdiction, they're monitored by allied, military or law enforcement personnel until members of the Coast Guard lead the actual boarding of the detected boat. 
The law enforcement phase of these busts are controlled by the Coast Guard.