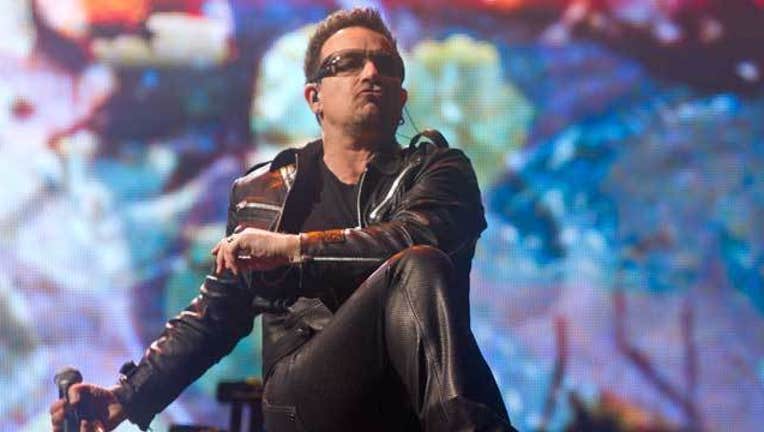 article
While early albums nodded to such influences as The Jam, Siouxsie and the Banshees and Television, it was Bono's cathartic, emotive style of singing and magnetic stage presence that put the group on the map as a live powerhouse. Their first two albums concentrated mostly on personal themes, but the breakout 1983 effort War was the band's first overtly political recording with the hit songs "New Year's Day" and "Sunday Bloody Sunday." The Unforgettable Fire with its fiery salute to Martin Luther King, Jr. "Pride (In the Name of Love)" further established the band while taking a different sonic direction with the ambient touches of producer Brian Eno.
Though already a global success, it was the release of The Joshua Tree in 1987 that elevated U2 to stadium-headlining status worldwide. Inspired by American roots music and fueled by the hits "With or Without You," "I Still Haven't Found What I'm Looking For" and "Where the Streets Have No Name," the album became their biggest seller yet. The exhaustive tour and associated documentary and double album Rattle and Hum would find some critics lambasting the band (and Bono in particular) for a self-serious and pretentious attitude, but U2's star continued to rise.
The '90s would find the group redefining both its sound and live presentation dramatically, embracing electronic dance music on 1991's Achtung Baby with the spectacular multimedia Zoo TV Tour that redefining the stadium concert with it's ambitious scope and use of cutting-edge technology. Inspired by the experience, the band would release the companion album Zooroopa two years later. The 1997 effort Pop and accompanying Pop Mart Tour would continue to push the envelope for the band, though the album was less commercially successful.
The following decade saw the band returning to a more straightforward approach on All That You Can't Leave Behind and the harder rocking How to Dismantle an Atomic Bomb in 2004. The group has had it's struggles since with the album No Line on the Horizon getting a lukewarm reception and last year's Songs of Innocence with U2 getting some backlash from consumers who didn't want the latest release automatically added to their iPhones. Bono also suffered some serious injuries in a cycling accident in New York's Central Park, but has recovered enough for the group's latest Innocence + Experience Tour to find the band playing arenas instead of stadiums for the first time in a decade.

U2
Monday-Tuesday, May 18-19, 7:30 p.m. $65-$275
SAP Center