Univ. of Oklahoma president: Frat members 'disgraceful'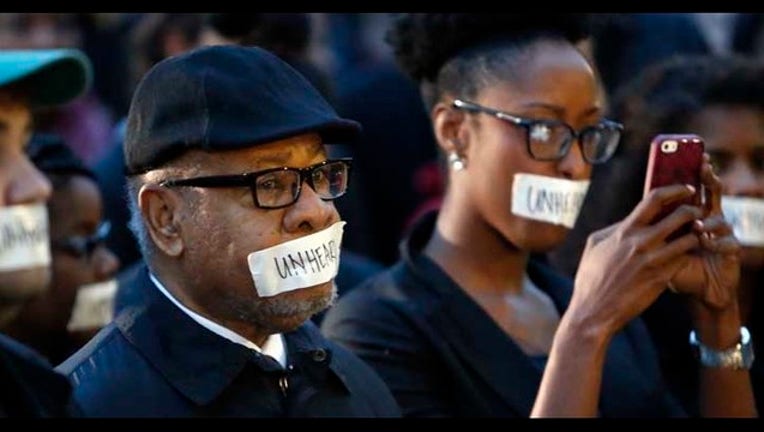 article
NORMAN, Okla. (AP) — The president of the University of Oklahoma lambasted members of a fraternity on Monday who participated in a racist chant caught on video, calling them disgraceful and their behavior reprehensible, and ordered that their house be vacated by Tuesday night.
President David Boren joined students at a pre-dawn rally on the Norman campus, just hours after Sigma Alpha Epsilon said an investigation confirmed the contents of the online video and announced it was closing the local chapter.
The video shows several people chanting a racial slur and indicating blacks would never be admitted to the fraternity. The chant also references lynching.
"These people have acted in a way that's absolutely reprehensible and disgraceful," Boren said. "Real Sooners are not bigots, racists."
The national fraternity released a statement Sunday night saying it was "embarrassed" by the "unacceptable and racist" behavior. Boren later released a statement saying members had until midnight Tuesday to remove their personal belongings from the fraternity house.
A link to the video was posted by OU Unheard, a black student group on campus, after someone anonymously called it to the group's attention, communications director Alexis Hall said Monday.
"We immediately needed to share that with the OU student body," said Hall, a junior. "For students to say they're going to lynch an entire group of people. ... It's disgusting."
It's unclear who recorded the video, when it was recorded and who initially posted it online. Hill said a link to the video was sent Sunday afternoon to the student group, which formed in the fall in response to a fatal police shooting in Ferguson, Missouri.
The video appears to have been taken on a charter bus, with at least one of the chanting students wearing a tuxedo.
"I was shocked they were just doing it openly on the bus, like they were proud of it," said Jared Scarborough, a junior in construction science. "From the chant you could tell they had done it before. It wasn't a first-time thing. And it was everybody. And the fist-pumping."
A university police cruiser was parked Monday outside the fraternity house, a sprawling two-story, sand-colored brick building on a street lined with Greek houses just west of the center of campus.
The University of Oklahoma, located in the southern Oklahoma City suburb of Norman, has about 27,000 students, about 5 percent of whom are black. The Greek system is largely segregated.
Ahead of a late-morning news conference, Boren said fraternity members had "violated all that we stand for."
"Effective immediately, all ties and affiliations between this University and the local SAE chapter are hereby severed. I direct that the house be closed and that members will remove their personal belongings from the house by midnight tomorrow," he said.