Unsigned safety Eric Reid files collusion grievance against NFL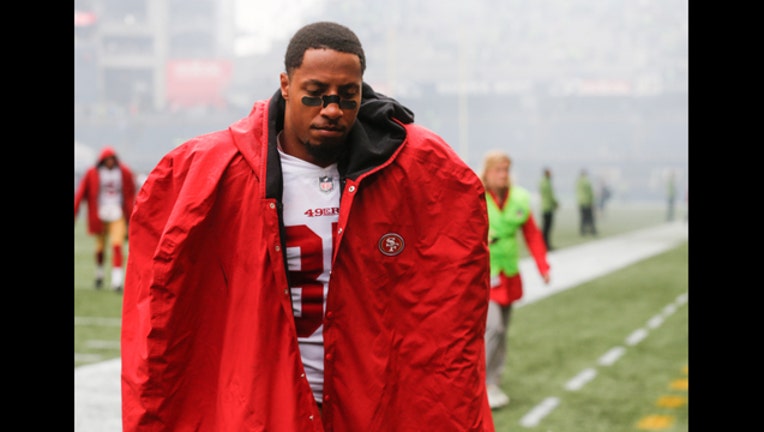 article
NEW YORK (AP) - The NFL players' union says former San Francisco 49ers safety Eric Reid filed a grievance against the league, alleging that he remains unsigned as a result of collusion by owners.
Reid, a Pro Bowler in 2013, had joined former teammate Colin Kaepernick two seasons ago in kneeling during the national anthem to protest police brutality and racial inequality.
Kaepernick wasn't signed for the 2017 season following his release in San Francisco. Reid continued the quarterback's protests. The 26-year-old safety became a free agent this offseason when his rookie contract with the 49ers expired.
"Our union is aware that Eric Reid and his legal representatives filed a collusion claim, which will be heard through the arbitration process as spelled out in our collective bargaining agreement," the NFL Players Association said in a statement Wednesday. "Our union supports Eric and we are considering other legal options to pursue."
Kaepernick previously filed a collusion grievance that is in the discovery stage. He deposed several league owners and executives, including Commissioner Roger Goodell. Reid is using the same attorneys as Kaepernick.
A league spokesman said Wednesday: "We are abiding by the confidentiality provision of the CBA and have no comment."
In March, Goodell was asked about Reid, one of the better players at his position in the NFL, not having a job.
"I've said this repeatedly to you: The 32 teams make individual decisions on the players who are going to best help their franchises," Goodell said. "Those are decisions they have to make. They do that every day in the best interest of winning. Teams make those decisions. I'm not directly involved with that."
Last month, Kaepernick praised Reid for continuing to make a stand for social justice when the quarterback was presented an Amnesty International award in Amsterdam.
"Eric introducing me for this prestigious award brings me great joy," Kaepernick said. "But I am also pained by the fact that his taking a knee, and demonstrating courage to protect the rights of black and brown people in America, has also led to his ostracization from the NFL when he is widely recognized as one of the best competitors in the game and in the prime of his career."