US stocks fall broadly a day after Nasdaq passes 5,000 mark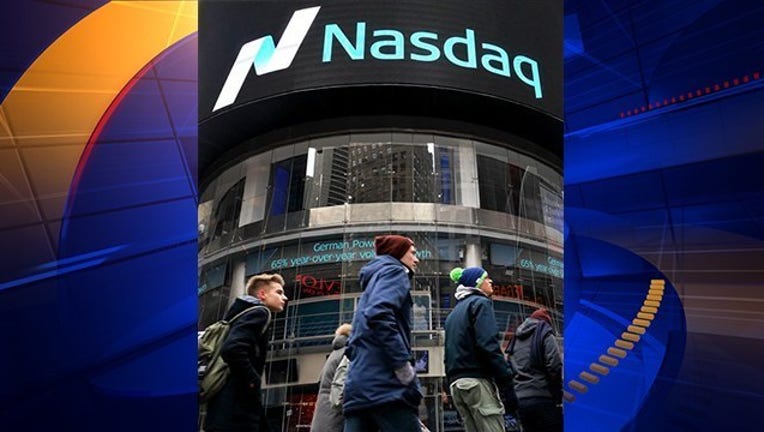 article
NEW YORK (AP) — U.S. stocks fell from record highs on Tuesday and the Nasdaq dropped below 5,000 a day after passing that milestone for the first time since the dot-com era 15 years ago.
The losses were modest but broad, with eight industry sectors in the Standard and Poor's 500 index falling. Higher oil prices helped oil drillers and other energy companies buck the trend. They eked out a 0.2 percent rise for the day.
With no major economic news and few earnings reports, investors were at pains to point to a catalyst for the stock slump other than jitters that sometime follow big gains.
"It's only natural we would get a little flutter after a milestone like yesterday," said Wells Fargo Funds' Chief Equity Strategist John Manley, referring to the Nasdaq closing above 5,000. "It may very well go on for a few days."
The Dow Jones industrial average fell 85.26 points, or 0.5 percent, to 18,203.37. The Standard & Poor's 500 declined 9.61 points, or 0.5 percent, to 2,107.78. The Nasdaq gave up 28.20 points, or 0.6 percent, to close at 4,979.90.
Ford Motor slumped after reporting U.S. sales from last month that disappointed investors. Ford sales fell 1.9 percent as dealers lacked the inventory to meet demand for the new F-150 pickup truck. Ford dropped 40 cents, or 2.4 percent, to $16.17.
Oil rose on reports that Saudi Arabia raised prices for Asian customers and fears of heightening tensions with Iran after Israeli Prime Minister Benjamin Netanyahu addressed Congress. Several oil drillers surged. Denbury Resources, an oil and gas producer, jumped 28 cents, or 3.4 percent, to $8.58.
With nearly all companies in the S&P 500 having reported their fourth-quarter results, earnings per share for companies in the S&P 500 index are expected to have risen a healthy 7.7 percent, according to S&P Capital IQ.
Liquor giant Brown-Forman reports earnings on Wednesday, followed by Costco Wholesale on Thursday. Staples, the nation's biggest office supply chain, reports on Friday.
Financial analysts expect earnings to drop compared with the year-earlier periods for the next two quarters, but that is mostly because of a drag from energy companies as oil prices have fallen more than 50 percent since last June.
Anastasia Amoroso, global market strategist for J.P. Morgan Asset Management, said she wasn't surprised by the pullback.
"We're seeing a market that is fairly valued, earnings are behind us and no major catalysts are coming up," she said. "It's a market ready for a pause."
The slump in the U.S. followed losses in European markets. France's CAC 40 and Germany's DAX each lost 1 percent. Britain's FTSE 100 dropped 0.7 percent.
On Monday, the Nasdaq rose to just 40 points from its 5,048.62 peak reached March 10, 2000. The index has changed significantly since then. Gone is the heavy weighting of telecommunications stocks and big bets on Internet companies with little or no earnings.
Among other stocks in the news:
— Personal finance company Springleaf Holdings rose $12.19, or 32 percent, to $50.23 after it said it would buy Citigroup's OneMain Financial for $4.25 billion. OneMain provides personal loans at more than 1,100 branches across 43 states.
—Best Buy gained 55 cents, or 1.4 percent, to $39.18 after the company said it would raise its dividend 21 percent and give shareholders an additional one-time payment. The nation's biggest electronics chain also reported fourth-quarter earnings that were higher than financial analysts had expected.
Benchmark U.S. crude rose 93 cents to close at $50.52 a barrel in New York. Brent crude, a benchmark for international oils used by many U.S. refineries, rose $1.48 to close at $61.02 a barrel in London.
In other futures trading on the NYMEX:
— Wholesale gasoline rose 5.3 cents to close at $1.950 a gallon.
— Heating oil rose 5.3 cents to close at $1.940 a gallon.
— Natural gas rose 1.4 cents to close at $2.712 per 1,000 cubic feet.
In bond trading, the yield on the 10-year Treasury note rose to 2.12 percent from 2.08 percent on Monday.
In metals trading, gold fell $3.80 to $1,204.40 an ounce, silver fell two cents to $16.30 an ounce and copper lost four cents to close at $2.66 a pound.