Vallejo police now under state oversight to complete reforms
VALLEJO, Calif. - California Attorney General Rob Bonta on Monday announced a five-year court oversight of the Vallejo Police Department, where the agency must complete 45 reforms and be approved by an independent evaluator to ensure that it meets those goals. 
Bonta, standing with members of the Vallejo City Council and police department at his side, said that this oversight comes as a result of a "stipulated judgment" after his office sued police in Solano County. 
"At its core, this new agreement is about building and strengthening trust between the Vallejo Police Department and the communities it serves," Bonta said at a news conference in Vallejo City Council chambers. "It's about correcting injustices and enhancing public safety for all people in Vallejo. It's about ensuring that the Vallejo police Department listens to the people they serve and upholds their civil rights and their constitutional rights."
Bonta said that this agreement builds on a memorandum of understanding that began in 2020, but expired in June. That agreement came with no court oversight and no independent evaluator. 
The police department had met 20 out of the 45 agreed upon reforms, which Bonta noted was "progressive, but not enough." 
Vallejo Mayor Robert McConnell said he hoped that the agency could complete these tasks in less than five years. 
He said this agreement has the "100% support of this move," and he knows that the new chief of police "strongly supports this." 
Interim Police Chief Jason Ta said he is committed to the completion of the reforms, while also acknowledging a staffing shortage. 
"Improvements will be made," he said. "I am confident that this will increase accountability, efficiency, transparency, community partnerships while at the same time improving relationships with the public." 
In a statement, the Vallejo police union said it supported the agreement but that the 75-member department needs at least 130 officers for all of this to work.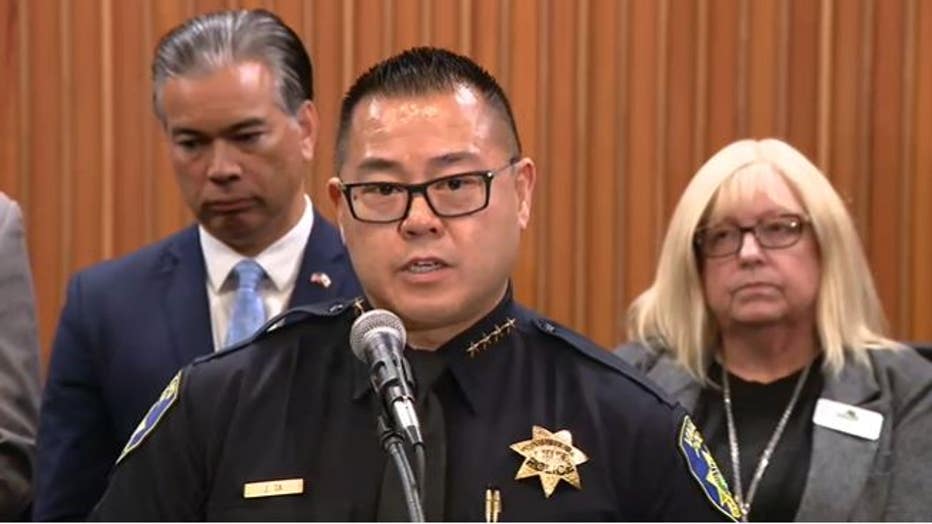 Vallejo Interim Police Chief Jason Ta speaks at a news conference about oversight of his department. Oct. 16, 2023 
Civil rights attorneys have long asked for oversight of Vallejo police, who have been mired in a high number of controversial officer-involved shootings and a badge-bending scandal, where officers bent their badges to mark each time they shot and killed someone on duty, to name two. 
Calls to reform Vallejo police ratcheted up in 2019, when civil rights attorney John Burris and his colleague, Melissa Nold, filed a federal lawsuit after officers killed Willie McCoy, 21, who was sleeping with a gun in his hand in a Taco Bell. Officers fired at him 55 times. He died at the scene. 
Their lawsuit at the time cited the police department's "unconstitutional policing," saying that the situation had become so "dire" that the "city's residents live in terror."
The suit cited more than 20 examples of people killed, roughed up or "brutalized" by Vallejo police since 2012, alleging that police have exhibited a "pattern and practice of using excessive force against citizens." 
The lawsuit asked for an independent monitor, like the one assigned to Oakland nearly 20 years ago, be assigned to supervise and evaluate whether the policing in Vallejo is constitutional or not.
Bonta represents the state Department of Justice, not the federal one. 
Nold, who is also a long-standing critic of Vallejo police, told KTVU that she was glad about this "tremendous step."
"The state should be taking care of this, not the feds," she said, noting that the previous AG shrugged off providing oversight over Vallejo.
She did wonder whether this oversight would be "sufficient" and she would be observing its progress with a "watchful eye." 
Bonta made a similar move two years ago with the Bakersfield Police Department in Central California. 
In 2021, Bonta filed a lawsuit in Kern County against the department, accusing them of failing "to uniformly and adequately enforce the law, in part because of inadequate policies, practices, and procedures," thus depriving individuals of their constitutional rights. 
The city of Bakersfield agreed to a series of reforms, such as outfitting police with body cameras, modifying K-9 policies and ensuring they would collect racial data, all overseen by a judge and a court-appointed monitor tasked with auditing the department's progress. 
Specifically in Vallejo, Bonta said this five-year oversight will have reach over areas that include racial bias, use of force, search and seizures, ongoing audits when officers pull out their guns and shooting policies, and using crisis teams when someone has a mental health crisis, as some examples. 
Officers' names and badge numbers will also be handed out to members of the public, who may want to make a complaint against them. 
"The people of Vallejo deserve a police department that listens to them and guarantees that their civil rights are protected," he said. "Again, we'll accept nothing less." 
KTVU's Henry Lee contributed to this report.