Vallejo teen shot on Muni train remains in critical condition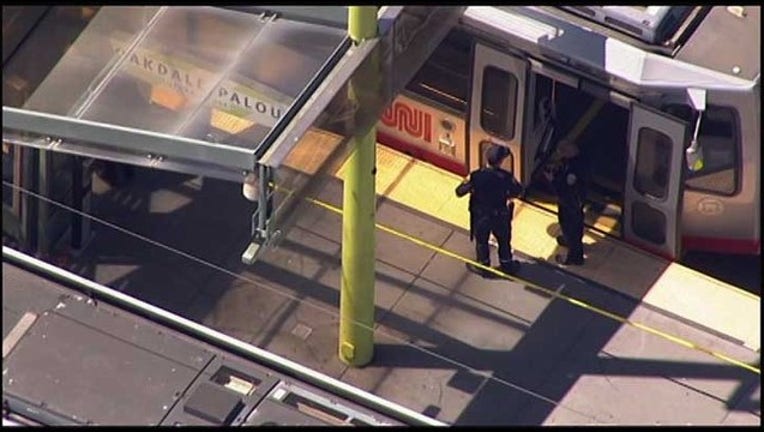 article
SAN FRANCISCO (BCN) -- A 19-year-old Vallejo man who was shot in the face on a San Francisco Municipal Railway light-rail vehicle in the city's Bayview District remained in critical condition Tuesday morning, police said.
Police initially reported that the victim was a 20-year-old San Francisco man, but said that he is in fact a 19-year-old resident of Vallejo.
San Francisco police spokeswoman Officer Grace Gatpandan said the victim was taken to a hospital's intensive care unit following the shooting and that his nurse said he remains in critical condition as a result of at least one gunshot wound to the face.
At 12:21 p.m. Monday, police received a report of the shooting on a T-Third light-rail vehicle in transit on Third Street, heading south between Oakdale and Palou avenues.
Muni spokesman Paul Rose said the shooting suspect and victim were both passengers on the Muni vehicle.
Following the shooting, the male suspect fled the light-rail vehicle into a busy intersection nearby and has not yet been identified or arrested.
Gatpandan said there were numerous witnesses to the shooting, but so far the suspect is described only as a man between 18 and 25 years old who was wearing a hooded sweatshirt and baggy pants.
Police said investigators are reviewing the Muni vehicle's video surveillance footage and other cameras in the area for more information about the suspect.
The motive for the shooting remains under investigation.
Officers are asking anyone who may have information about the shooting to call the Police Department's anonymous tip line at (415) 575-4444 or to text a tip to 847411 with "SFPD" in the message.