Jewish man dead after altercation during Israel-Palestine protests in Ventura County
THOUSAND OAKS, Calif. - Southern California authorities said an elderly Jewish man who was injured during an altercation at Palestine and Israel demonstrations in Thousand Oaks over the weekend died from his injuries.
The horrific incident happened around 3 p.m. Sunday during dueling rallies near the intersection of Westlake and Thousand Oaks boulevards. Deputies with the Ventura County Sheriff's Office were called out to the area after reports of a battery.
When they got there, they found 69-year-old Paul Kessler had fallen to the ground and was bleeding from his head. According to deputies, Kessler had been involved in "an altercation with counter-protesters." 
Reports on social media said Kessler was holding an Israeli flag among the group of pro-Palestine demonstrators when one demonstrator allegedly hit Kessler on the head with a megaphone. The alleged hit caused Kessler to fall down and hit his head, with video posted to social media just showing Kessler on the ground holding his head after the fall.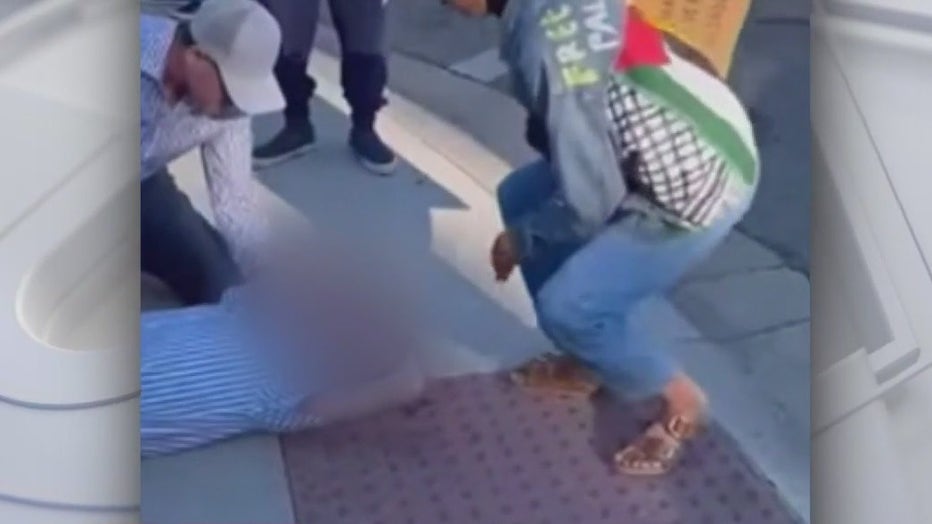 Kessler was taken to the hospital Sunday, and on Monday, officials said he did not survive his injuries sustained in the attack. According to the VCSO, Kessler's autopsy determined his cause of death to be a blunt-force head injury, and the manner of death was ruled a homicide.
The VCSO's Major Crimes Bureau continues to investigate the incident and the VCSO said the office has not ruled out the possibility that the incident was a hate crime.
The person wanted in the attack has not been arrested or charged. 
In a statement to FOX 11 the Jewish Federation of Greater Los Angeles said it's "devastated" by the news, saying their "hearts are with the family of the victim."
"Violence against our people has no place in civilized society," the statement read. "We demand safety. We will not tolerate violence against our community. We will do everything in our power to prevent it."
LA Mayor Karen Bass issued the following statement Tuesday:
"We mourn the death of the Jewish man who died after being injured during a protest in Thousand Oaks. As details emerge and are confirmed, we stand resolute in condemnation of violence and antisemitism. This death is a blow to our region at a time when tensions continue to rise worldwide. We must redouble our efforts to ensure violence and hate are met with accountability and consequences. Los Angeles refuses to harbor this hatred."
Anyone with information on the attack was asked to contact detectives at 805-384-4745.