Victims identified after boating accident near Tomales Bay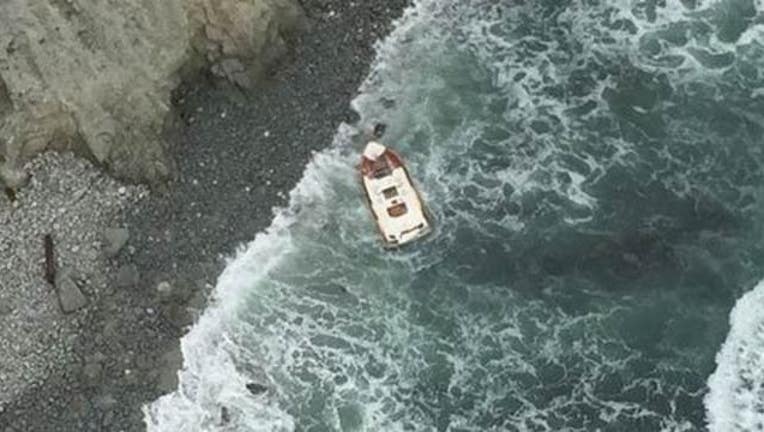 article
The wreckage of a 21 foot boat was found Saturday off Tomales Point in the Point Reyes National Seashore.
The foursome had set off Friday morning from Bodega Harbor in Sonoma County.
The Marin Coroner's office identified the two recovered victims as 59 year old Richard
Hargreaves, Jr. of Santa Rosa and 61 year old Diane Kelly of Windsor.
"It's a fiberglass boat, it's a rocky area, if they got in a rocky area, it wouldn't take long for it to break up," Coast Guard Bosun Mate Matt Walker told KTVU, "and there is a debris field for a half mile with totes, bags, pieces of the boat floating in it."
The group, consisting of Hargreaves and Kelly, and two unidentified men, drove from Santa Rosa to the coast early Friday morning.
The launched from the Westside Park boat launch at about 6:30 am, and were expected to return home by 5 pm.
When they didn't show, concerned loved ones raised alarm.
"We went to the local marina where they launched and their truck and trailer were still there, " Coast Guard Petty Officer Trevor Armstrong told KTVU, "so we began a search with our lifeboats.
But it was only after the fog lifted Saturday morning, and the Sonoma County Sheriff's Department helicopter could fly, that the boat and two of the four victims were found.
One was lifted from the water, another retrieved from the rocks.
The group never made a distress call. They were out for a day of salmon fishing and may have strayed too close to the treacherous shore in deep swells.
There was a small craft advisory warning of eight to ten foot waves.
"It's very important that people understand their fishing location and the hazards" reminded Armstrong, "fishing rockfish and in shallower areas, the swells can sometimes pick up."
Saturday afternoon, the search continued for the remaining two boaters, by air and water.
But with their chances of survival dwindling, the effort ended at darkness, and Sunday's search will be smaller and shore based.
For those sent out on rescues that become recoveries, it is never easy.
"It's always tough for the crew, " acknowledged Walker. "You're working with young women and men, and they want the best for people. And it just doesn't work out all the time."
The accident is sadly reminiscent of a tragedy last November, in which a 32 foot vessel capsized outside Bodega Harbor, killing four of the five people aboard. The skipper was a seasoned fisherman, and it was the opening of the sport crab season.