VIDEO: Fairfield man says police punched, kicked and tased him during traffic stop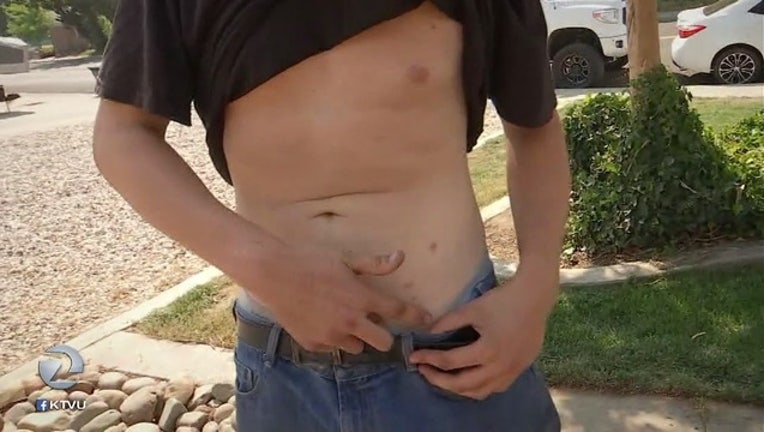 FAIRFIELD, Calif. (KTVU) - A Fairfield man is accusing police of excessive force after he says he was tased, punched and kicked by officers during a traffic stop. We've obtained the video showing the altercation unfold.
Fairfield Police tell KTVU they've seen the video and reviewed their body camera footage as well. The beginning of the traffic stop is not on camera. During that time, police say they saw the passenger throw a box cutter in the backseat. According to police, that's what started the fight. However, the passenger denies having any weapons at all. 
Bystanders watching a traffic stop unfold Tuesday August 14th, captured video and posted it on social media. In it you see two Fairfield police officers with their weapons drawn, pointing them at the passengers inside this black mustang. One of them was 20-year-old Joseph Schwaub of Fairfield.
"He was like put your hands on your head. I'm like no I'm not about to put my hands on my head. What do you want," said Schwaub.
Schwaub and his girlfriend Tori Owens were driving with a missing license plate and were stopped by police, but say they weren't told what they were being pulled over for. 
Suddenly, several more officers pull up and approach the vehicle.  Moments later, you see schwaub in a white shirt get out of the car..
"I give them my hand and he starts twisting it and I'm like what the heck dude and he was like get out of the car. I get up and then I don't remember seeing him punching me because he had my ponytail and then in the video he hit me like three times and then he lets go of my ponytail. I just drop like I'm limp," said Schwaub.
Seconds later, you hear the taser go off. You then see Schwaub's body turn around, now facing the car, while getting punched from behind by the officer. 
He calls the use of force excessive. We took those concerns to Fairfield Police. 
"The reason that the conflict was a lot more physical with the officers is because the taser was ineffective since it malfunctioned," said Lt. Greg Hurlbut with Fairfield Police. 
Police say officers removed the taser darts that malfunctioned, and stunned Schwaub instead.  Schwaub showed us the wounds left on his body saying he was tased at least five times. 
"They tased me in the back of my calf after I'm already on the ground, my hands behind my back. I don't know if it's cuffed but they definitely have them behind my back. If I'm moving it's because they're pushing me or making me move. I wasn't resisting or anything," said Schwaub.
Schwaub's girlfriend can be heard on the video screaming and asking officers to stop. Owens says the entire ordeal was wrong and uncalled for. She also raised concerns about an officer dropping his body camera under her car.
"Hearing an officer say 'hey pick up my body camera it's under her car'… that's really questionable," said Owens. 
"When the conflict started, the bodies striking each other, struck his camera and it fell off of him and onto the ground. There's still multiple videos going at the same time," said Lt. Hurlbut. 
KTVU has requested that body camera footage, but it hasn't been released yet. 
Schwaub was arrested that night but released from the Solano County jail that morning on charges of resisting arrest and obstructing an officer. Owens was cited for the missing license plate. 
Fairfield Police say any time use of force comes into question, the department launches an internal investigation.