Vigil held for 14-year-old killed in Oakland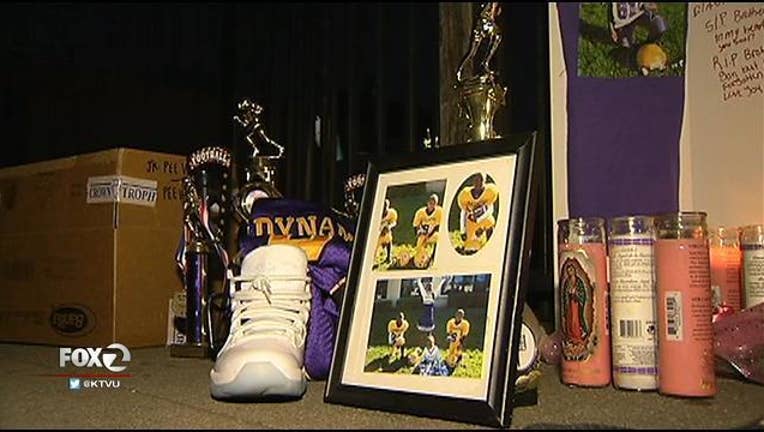 article
Police said Ellis was walking with friends near Brookdale and Humboldt in east Oakland just before 8 p.m. Saturday when someone opened fire. Police said Ellis died at the hospital.
Candles were placed alongside football helmets, trophies, stuffed animals and cans of orange soda. Messages of love and support were written on a poster next to a photo of the teenager.
"Davon was a great kid," said Todd Walker, a family friend.
Friends said Davon was a talented football player, who could play many positions on the offense and defense.
Cedric Pow, Davon's uncle, said his nephew was not only a good athlete but also a good student.
"You really don't see a lot of kids doing homework these days but that young man actually cared about his grades and his future," said Pow. "He made sure to try to get his mom out of here and make his dad proud. That was pretty much it. That's all he lived for."
Walker called on city leaders to do more.
"Black lives always matter. We (are) tired of losing our kids on these streets -- 14 years old, walking down the street, getting gunned down like an animal," said Walker. "This kid wasn't no thug."
Neighbors told KTVU FOX 2 they heard several gunshots, then ran outside to try to comfort the boy.
"I just held him. I didn't want him to choke on his vomit or blood -- that was my main thing," said Dalise Monroe, a neighbor.
"It was terrible. He was such a little thing," said Toni Gatewood, a neighbor.
Police said they were looking at surveillance footage from the nearby area for clues, trying to figure out who took the life of a 14 year old boy, and why.
"The possibility of mistaken identity always exists. The possibility of retaliation always exists. We are not able to say at this stage in the investigation what led up to the shooting," said Officer Johnna Watson, spokesperson, Oakland Police Department.
Police and Crime Stoppers are offering up to $20,000 for information leading to an arrest.
"We want to bring closure to the family and also to our community," said Officer Watson.