Violent BART police arrest at SF Embarcadero Station caught on video, sparks outrage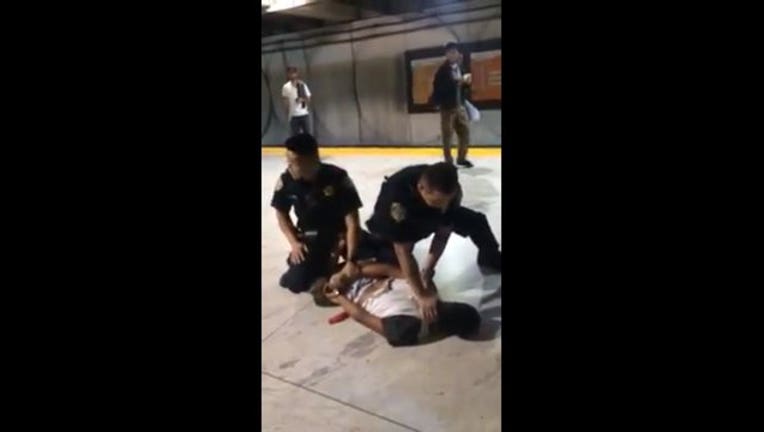 article
SAN FRANCISCO (BCN) - The suspect in a violent arrest at San Francisco's Embarcadero BART station platform on Friday caught on two videos that spurred outrage on social media had allegedly kicked one police officer in the head and throat, bit another and spit on a third, BART officials said today.
   
Police identified the suspect as Michael Smith, 22, and are recommending the San Francisco District Attorney's Office charge him with five counts of battery on a police officer and resisting arrest. He remains in jail on $180,000 bail, according to jail records.
   
BART made the new allegations after public outrage grew over the weekend from two videos widely shared online showing one officer punching Smith's head down while he was pinned on his stomach.
   
In response to the videos BART police have launched an internal affairs investigation into whether excessive force was used and reached out to a witness who posted one of the videos.
   
That witness, Tarina Larsen, posted a video to Facebook on Friday apparently showing the officers struggling with Smith as he squirms on the platform. A woman stood restrained in zip ties nearby.
   
Another witness, Pamela Martinez, posted a separate video the same day showing a large crowd gathered around yelling at the officers, who tried to keep them at bay.
   
Both videos have been shared widely. Martinez's has been shared more than 1,600 times and viewed 80,000 times as of this afternoon. Larsen's was viewed 42,000 times and shared more than 600 times.
   
BART officials said the officers responded to reports of a "possible armed robbery" at 12:52 p.m. that day and obtained a detailed description of a suspect.
   
When they tried to detain Smith, he was uncooperative and physically resisted the officers, including kicking one officer in the head and throat, biting another and spitting on a third.
   
While he was arrested for the allegations of resisting arrest and battery of a police officer, police are seeking no charges for the reported robbery attempt.
   
When the officers contacted the original victim, they learned he had been in an argument and said the man had threatened to rob him but did not brandish a weapon, BART officials said.
   
The woman detained in zip ties was released.
   
Once the videos were posted, BART swiftly responded to the growing outrage on Twitter. The incident was captured on the officers' body cameras and an internal affairs investigation and independent police auditor review are underway, BART officials said. The officers remain on active duty.
   
Larsen said she has doubts about the investigation. While several reporters had reached out to her over the weekend, she wasn't contacted by anyone at BART until a sergeant called her at about 3 p.m. today.
   
"What kind of investigation is BART conducting?" Larsen wrote on Facebook.
   
Martinez and Larsen, whose accounts of the incident were posted within about 15 minutes of each other on Friday afternoon, both said that two women who witnessed the initial incident told police that there was no robbery. Instead, another man had antagonized the two suspects with racial slurs and then called the police, they said.
   
"The two ladies who were next to the kids when it happened were tearing up begging the cops to let them go," Martinez wrote. "Someone yelled, 'get your knee (off) his back! You're going to break it!'"
   
She said one of the officers even pulled a gun during the confrontation.
   
"My legs trembled as I was sure that the cops were gonna open fire on these kids. Everybody, even tourists with no connection to America's problems, were livid and scared," she wrote.
   
BART police said this isn't the first time that a minor interaction with Smith has led to violence. He was arrested in 2013 and 2014, once for petty theft and once for fare evasion, but in both cases Smith allegedly escalated the situation by either trying to steal an officer's gun, spitting on an officer or trying to bite one, BART officials said.
Click the arrows on both of these videos to expand them